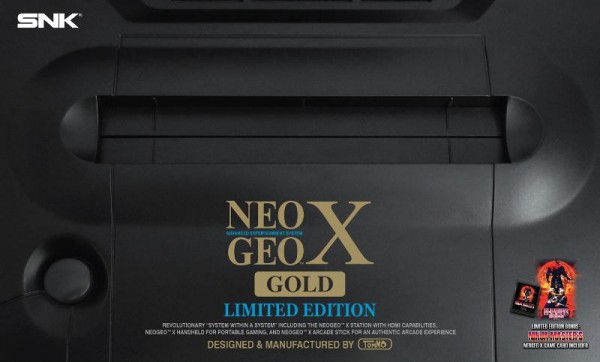 Fans of the classic NEOGEO AES system and its games will be interested to know that SNK Playmore and Tommo, Inc have partnered to bring the NEOGEO X GOLD Limited Edition.  Altogether the system includes the NEOGEO X Handheld, the Station for charging and additional A/V outputs, one Arcade Stick to use with the Station, and 20 classic AES games pre-loaded on the Handheld.
The pre-loaded games with the system are:
3 COUNT BOUT
ART OF FIGHTING
ALPHA MISSION II
BASEBALL STARS II
CYBER LIP
FATAL FURY
FATAL FURY SPECIAL
THE KING OF FIGHTERS '95
KING OF THE MONSTERS
LAST RESORT
LEAGUE BOWLING
MAGICIAN LORD
METAL SLUG
MUTATION NATION
NAM 1975
PUZZLED
REAL BOUT – FATAL FURY SPECIAL
SAMURAI SHODOWN II
SUPER SIDEKICKS
WORLD HEROES PERFECT
But, that's not all the games available to come with the system as pre-orders will also include a NINJA MASTER'S game card, only while supplies last though.  Set to release December 6th, players interested in getting in on this can pre-order through various online retailers currently just Amazon and GameStop, but will soon be available through Walmart, Target, Toys R Us, Best Buy and the AAFES.