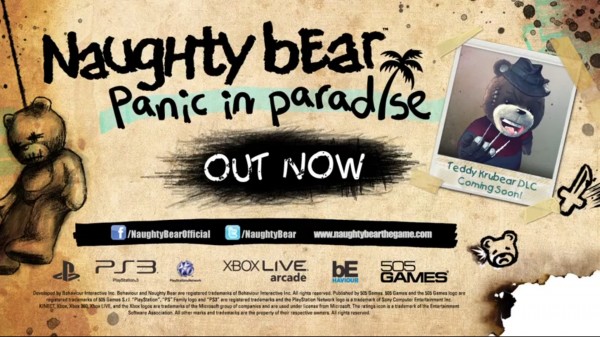 505 Games is excited to announce the launch of its latest game, Naughty Bear: Panic in Paradise. Naughty Bear is a title that brings out the true evilness inside a person while personalizing and somehow justifying the death blow. Your ultimate goal is to eliminate the 36 targets in accordance to their "wrong-doings" to Naughty – even though he probably deserved it.
But that's not all. Along with the launch of Naughty Bear: Panic in Paradise, some interesting content is available for you to purchase to increase the cotton bath of destruction. Priced at 240 MSP is a neat little costume revolving around chainsaws and massacres. Yes, you get to relive some slicing and dicing from the 70's in this DLC rendition appropriately named Paradise Island Chainsaw Massacre for Xbox Live. Don't fret Playstation lovers, Teddy Krubear will be making an appearance on the Playstation Network for a mere $2.99. Additionally, the Greek god of thunder plays a role in another part of DLC as Mjolnpaw is a mighty hammer that only Naughty can wield for 80 MSP ($0.99).
You can purchase the game now through Xbox Live for 1200 MSP or Playstation Network for $14.99. Don't forget to check out the DLC in action below, and go massacre some teddy bears.