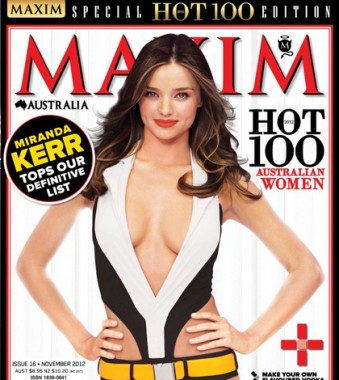 Who says Australians don't celebrate Halloween? This October 31st Maxim Australia is throwing a HOT 100 Halloween Party at the Marquee, with Sophie Monk (number seven on the Hot 100 list) will be making her only Sydney appearance.
With a guest list of over 500 (plenty of those being hot women from the Maxim list), and the music done by The Faders (famous for performing at some of the biggest parties, as well as festivals such as Splendour in the Grass and Future Music), this certainly sounds like it'll shape up to be a crazy awesome event. Too bad it isn't open to the public, but hey we can dream right?
Maxim Australia's Hot 100 Australian Women edition is on stands now! Make sure to pick yourself up a copy, whether it be for jealousy or pleasure.
Sophie Monk had this to say about making number 7 on the Maxim Hot 100 list:
"I'd like to thank my mum for voting for me and apologies to my brother who will most likely buy every copy on the Gold Coast so his friends don't see it. I love that Australia is celebrating Halloween but I'm not sure how I'm going to make a pumpkin outfit sexy. I will try!"
And I'm sure that, since she's Sophie Monk, she will be successful in that endeavour.
Check out the Maxim site HERE for more information on the Hot 100 list, but if you want the full list you're going to have to pick up a mag in the store!