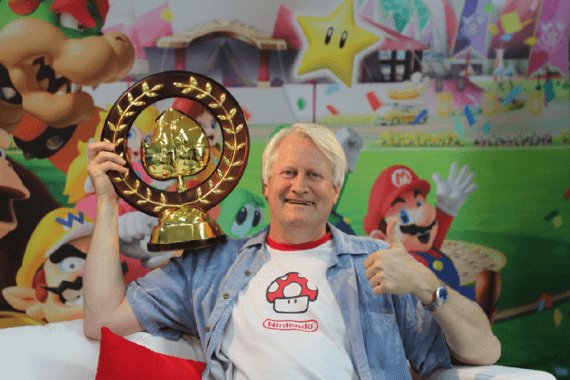 Mario Kart fans in Australia, get ready to start your engines!  WE NEED YOU! … YES YOU! The Capsule Computers community to take part in the Mario Kart Event to crown the fastest Mario Kart Racer in all of Australia, and we want one of you from the Capsule Computers community to take that trophy home!
Up for grabs in this Mario Kart extravaganza are Nintendo 3DS XL consoles (signed by the voice of Mario Charles Martinet), and loads of Nintendo 3DS games!  And if we the Capsule Computers community ends up being faster than the rest we also get a HUGE limited edition Mario Kart 7 trophy to accompany the glory!
The event will test even the most seasoned racers, with Mario Kart games spanning several generations available to play (read details  below)!  The event will be FREE but you must be over the age of 18 to enter, there will be great food and drinks available to power you up and take you over the finish line in first place!
So we need you all to rally together, start practising as much as you can, but before you do that, make sure you keep this date clear in your calendars :
THURSDAY, 1st NOVEMBER from 6:30pm  to 10:30pm
There will be a limit of 10 lucky community members that can be sent to this awesome event!  So if you think you have what it takes to take that chequered flag then leave a comment below with a valid email address and we'll get back to you with full details if you are one of the lucky one that get picked!  
(REMEMBER YOU NEED TO BE LOCATED IN AUSTRALIA – SYDNEY)
Race details are explained below, take a few minutes to read through them and prepare!
Qualifier:
To kick off the night, competitors will have the chance to record a qualifying time for a course in Time Trial mode in each of the following Mario Kart iterations: Super Mario Kart (SNES), Mario Kart 64 (N64), Mario Kart: Double Dash!! (GameCube) and Mario Kart Wii (Wii) – each played on their original console with original control options. The exact courses used will be unveiled on the night. Competitors will only be allowed one attempt per title. The fastest two racers from each iteration will each win a Nintendo 3DS game, a limited edition trophy, and given the honour of representing their community in the championship race where we will crown the fastest local gaming community. In the event one racer qualifies for two different Mario Kart titles, the next fastest racer from their registered community will gain access to the Championship Race.
Championship Race:
The two fastest racers from each Mario Kart title will represent their community in the Mario Kart 7 Championship Race – A four race Grand Prix that will decide the fastest community racer. The chosen cup will be randomly selected on the night of the competition. The winner of the Mario Kart 7 Championship Race will win a Nintendo 3DS XL Console (signed by the voice of Mario- Charles Martinet) and a limited edition, 1st place plated Mario Kart 7 trophy. 2nd and 3rd placed racers will also win a Charles Martinet signed Nintendo 3DS XL console and respective trophies.
For those who don't qualify: Along with 5 iterations of Mario Kart available to play on the night, Nintendo will have Nintendo 3DS XL Consoles with the latest Nintendo 3DS games to play.