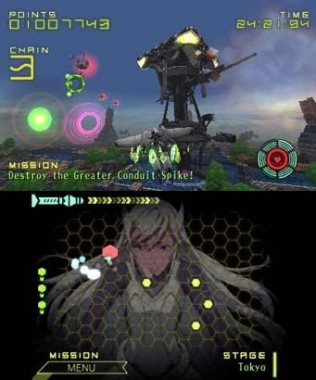 This week on the Nintendo Download circuit, Liberation Maiden has made it's debut on the 3DS. For those unfamiliar, this title is a beautiful 3D bullet-hell, where players take the role of Shoko Ozora and chain together kills while progressing an engrossing plot. For $7.99, it also is a good value for the coin.
For $9.99, Nightsky is also available on the eShop, and lets the player tackle environmental puzzles in a stunning, night-lit world. Those wanting something a little more familiar are in luck as well, as the NES version of Ghosts'n Goblins has hit the handheld's virtual console for $4.99, with Castlevania: The Adventure making it's debut as a Game Boy Classic for $3.99.
18th Gate is a strategy based dungeon crawler that shows a lot of promise, and has hit the DSiWare service for $4.99. Wii owners also have some loving as well with Shock Troopers blasting onto the Virtual Console for 900 points.
Phew! A lot of great games are up for grabs this week. So the question remains, what will you be downloading?