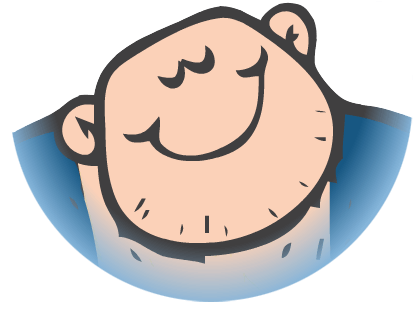 We caught up with ex-LucasArts employee Mike Levine now founder of HappyGiant game studio.  Mike and his team are working on a new title for the iOS called "Dolphin Paradise: Wild Friends" which is due out for release very soon,  we ask him a few questions about the game, what he thinks of the iOS market currently at the moment and a number of other things.  Check out the interview below:
1) Us here at Capsule Computers are aware that some of your founding members are ex-LucasArts developers. What was it that you were hoping to achieve by opening your own studio as opposed to continuing with LucasArts?
Hello Capsule Computers.
So to clarify, I (Mike Levine) left LucasArts way back in 1997. So I have been on my own for sometime. I ran my own service-based company doing work for hire online games under Pileated Pictures for Hasbro, Mattel, LucasArts, FashionPlaytes and others and we did our own title under Crackpot Entertainment (Insecticide) during the 2000's. We were lucky enough to recently raise funds to create our own games and are about to come out with our first major app "Dolphin Paradise: Wild Friends". We believe iOS and Smartphones represent the future of gaming and is where we are now focused.  I was lucky enough to work at LucasArts during a classic time. For me I enjoyed working on the Star Wars games, but I really liked the original stuff we were making the most. Eventually, I knew I had other things I wanted to do and it was time to move on.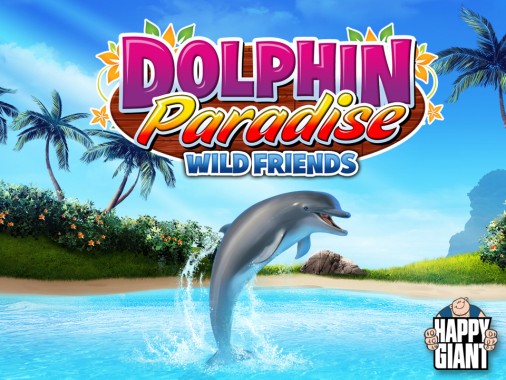 2) At the moment it looks like you guys have been developing for the iOS, does developing on this platform present any kind of challenges that you were not expecting to have to tackle? For instance, wouldn't the device be more restricted to develop for as opposed to the superior PC platform?
Well, like everything it has, its pluses and its minuses. On the positive side, it's fantastic to have a more fixed range of devices to develop for. PC is much easier than it used to be in terms of device support, etc., and we actually do plan to bring some of our games to it as well. With iOS it's also great to have a worldwide marketplace where so many people can find your game – of course that is the challenge – getting them to find your game. So it's a double-edged sword, no doubt about it. It's also a lot harder to make and distribute builds, but that's game development.
3) For those of us that haven't yet heard of your studio, can you let us know what games you guys have worked on in the past, both personally and as a studio?
As mentioned above, we created Insecticide for DS and for PC. I personally worked on most of the games at Lucas during the times I was there (91-97), specifically "Monkey Island 2", "Sam & Max: Freelance Police", "The Dig", "Star Wars: Rebel Assault", "Dark Forces 2: Jedi Knight", "Star Wars: Dark Forces", and many others I am forgetting! Pileated created many online games based on properties for Hasbro from Transformers, Tonka, Littlest Pet Shop and others, as well as several real-time multiplayer flash-based worlds. We have become experts in supporting globally run persistent products needing regular content updates. This past summer we also created a fun little app to go with Sasha Baron Cohen's film "The Dictator".
Bob Welch, our VP of Product, has a long history in the gaming industry as well, having been involved with titles like "Risk", "Civilization", "Sid Meier's Pirates", "RollerCoaster Tycoon3", "Act of War: Direct Action", and many other traditional and online products.
As you know, we're about to launch "Dolphin Paradise: Wild Friends", beautiful 3D pet-sim game for iOS. The game turns your iPhone device into a virtual lagoon. You'll pick and take care of your very own dolphin or orca, and you'll be required to feed it regularly to keep its health & its energy up. You'll teach your dolphin tricks while advancing though the ranks and eventually unlock various performances, where you can show off your pet's high jumping tricks. It's a great app for sea creatures lovers both young and old. The game will be released as a free-to-play, with a series of in-app purchases available.
Additionally, we're working on a very cool app that will launch by the end of the year and we announced at San Diego Comic Con with Dark Horse Comics. It's based on the classic comic series "Usagi Yojimbo" and it's the first game made from it in 25 years! Check out a teaser at www.usagiyojimbogame.com. We will be at the Dark Horse booth in New York next week as well showing off the game!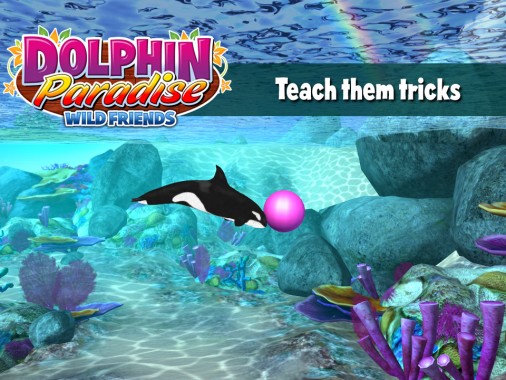 4) Have you had a chance to pick up a Wii U developer kit just yet?
Have not. At this point we're concentrating on the iOS titles.
5) Why did you decide to go with the FREE TO PLAY Model?  Do you think this is the way of the future with gaming?
Yes, we have really been living in this world for over 5 years. And we see it undeniably trending in this direction. Specifically, when you look at the reality of self-publishing and acquiring users, putting out a paid app gets very expensive, very fast. We believe in free to play, and doing it right, where you don't frustrate the user, but make them want to build and personalize their experience in a way that makes them want to show it off to others.
There has to be a good game beneath it all no matter what, and if done right, free to play can obviously work and be very compelling. Our goal was to achieve this with "Dolphin Paradise: Wild Friends." The game engages you right from the start as you play with and taking care of your dolphin. The missions will get you the experience and coins (pearls and shells) to move you up in the game or you can expand on your game by purchasing pearls that will open up even more missions.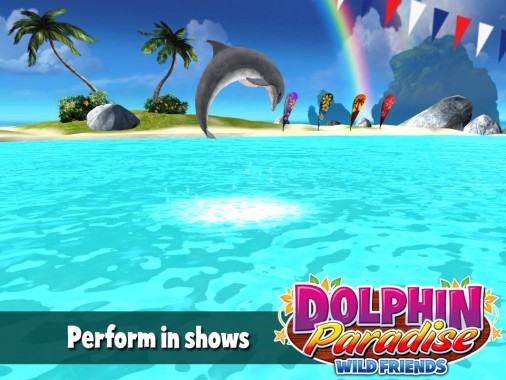 6) Do you think that developing a title that has a set price with no in-app purchasing would let the consumers think they are getting a full quality title over having a game, that is free but then having to purchase in game items with micro transactions to advance or move forward in the game.
There is no question this model has some instinctual appeal. I think everyone who has been in this industry for a while can't help but throw up their hands and say "yes, this makes so much sense!" But the reality is, it's just not moving in this direction. The tidal wave that is "free" will be very hard to overcome. That being said I do think there will always be some paid outlier titles, but it will not be the norm, in the foreseeable future at least.
7) With so many other developers out there creating iPhone apps/games, what will / can you do to be a step ahead and have your games noticed by the consumers?
This is the most important and difficult question facing this market, in our opinion. Not only does your game need to be great, and work on multiple levels to induce people to continue to play and/or become paying users, you have to know how to acquire users. Acquiring users is 50% if not more of the battle. The independent developer is left with only a few choices it would seem:
1) sign up with a "big" publisher, and give up control of your users, and give them a chunk of your revenue;
2) self-publish and spend money to buy ads or use other cross-promotion/user acquisition tools. There is a flood of these services and it's difficult to maneuver your way through them without experience, even if you are lucky enough to have money to spend on them;
3) put your app out there and pray.
I only list this last one because I see too many young developers doing this, and they may as well be buying lottery tickets. Working your game on a viral/social media level is now a given. You have to be proactive. In the end, despite this new open world we live in, there is one gatekeeper, Apple, and they have enormous power. If you are featured, and your app is ready for it, there would seem no greater path to success. HappyGiant is interested in exploring self-publishing and will be with our "Dolphin Paradise: Wild Friends" app, but we are also very open to partnering with publishers if it makes sense for both parties.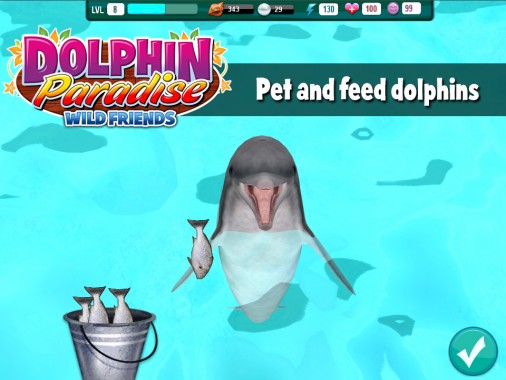 8) What games or inspirations do you look for when creating titles, especially this title that you are currently developing at the moment?
We have been working on pet-sims, and I have been a fan of them for a long time. We made a dragon pet-sim before "Nintendogs" came out that every publisher passed on (I still want to make it!). I watched my kids play "Kinectimals", and friend's kids playing "My Horse". We wanted to make something that was high quality and really created an "experience" for the user, as much as it was a game. Dolphins and orcas have a magical quality to them, and we wanted to capture that in this app. 15 years ago on vacation I went swimming with wild dolphins in New Zealand off Kaikoura. This experience always stuck with me and was a huge inspiration for "Dolphin Paradise: Wild Friends".
9) With the Android Market snapping at the heels of the iOS Store will there be any future title released for Android consumers?
We absolutely have plans to bring this to the Android Market.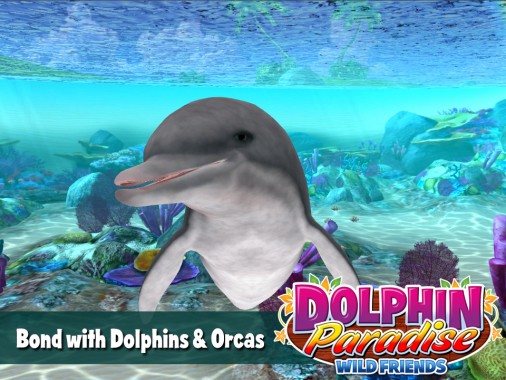 10) Do you believe that iOS/Android gaming will surpass the 3DS/PSVITA gaming or will the consumers stick to gaming on portable gaming devices over smart phones?
We kind of think it has already, hasn't it? The sales of the two devices you mention have been pretty low, especially when you look at smartphone and tablet growth, and compare them to the old days of handheld sales.
Thanks again for these questions!
–
We would like to thank Mike for his time and we wish him and his team over at HappyGiant all the best moving forward with Dolphin Paradise: Wild Friend and future titles.  We also have a great video from Dolphin Paradise: Wild Friends to check out below.