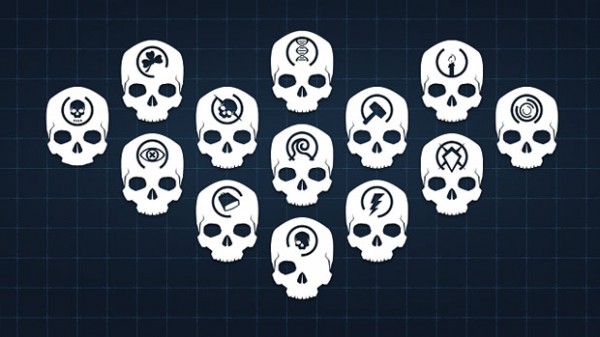 The skulls for Halo 4 have officially been revealed. For those of you who don't know, skulls can be found throughout the game's campaign. Once you find a skull you can use it in the campaign to modify an aspect of the how the game plays. Here is the list of the skulls that will be included in Halo 4:
Famine – Weapons drop much less ammo.
Tilt – Enemy resistances and weaknesses are increased.
Mythic – Enemies have increased health.
Catch – Enemies are grenade happy!
Black Eye – Shields don't recharge unless you melee enemies.
Tough Luck – Enemies always go berserk, always dive out of the way, and never flee.
Iron – Co-op: Back to previous checkpoint on death. Solo: Restart mission on death.
Thunderstorm – Major upgrade to the capabilities of enemies.
Cloud – Motion sensor is disabled.
Cowbell – Acceleration from explosions is increased.
IWHBYD – Rare combat dialogue becomes more common.
Grunt Birthday Party – Headshot a Grunt, HAPPY BOOM TIME!
Blind – The HUD and the first person arms and weapon are hidden.
You will be able to use these skull when Halo 4 launches exclusively on the Xbox 360 on November 6.