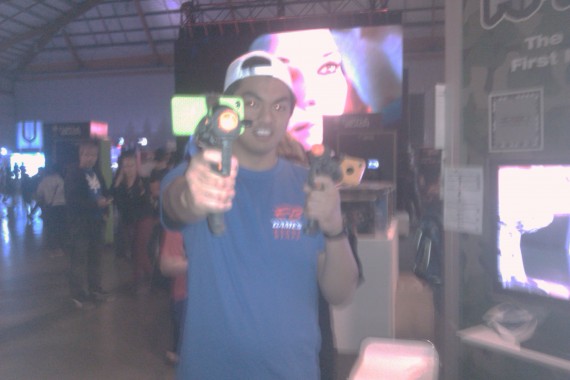 Bluemouth Interactive usually focuses on gaming accessories to compliment the various consoles. Rarely they would actually publish a title, but they have done in the past. During the EB Expo, Bluemouth showed off their current range of gaming accessories for consoles and handhelds. These included controllers, mobile covers, 3DS accessories and an interesting AR application. They are also distributors of Skylanders Giants accessories and toys.
The first thing I had noticed was a demonstration of an AR application for the iPhone. The iPhone was attached to a plastic pistol. Using AR technology, players must shoot all enemies that come their way. I was permitted to have a go and was not too impressed. The biggest issue was the app recognising the AR marker on the wall. Too often the AR app would miss the marker, despite being on the screen. Once the app did decide to start working, it was not engaging or fun. All I did was shoot spiders coming out of the cave. I could not tell whether I was hitting them or not. There are plans to expand the app to include an MMO with other people. How that would work is currently unknown.
Bluemouth have brought some Star Wars iPhone cases to the Expo. These cases come in various characters. One that did catch my eye was the Chewbacca cover. I thought that he cover did look nice. The C-P30 case also looked great, but I am a sucker for gold. Some video game based covers were also shown, like Black Ops II and Mass Effect. In the same case, some Nintendo 3DS accessories were featured. These included some nice accessory packs, which include the usual carry case and game cases, as well as some pens and styluses based on Nintendo franchises. They do look nice. Unfortunately, I did not actually get my hands on them, seeing they were behind the case.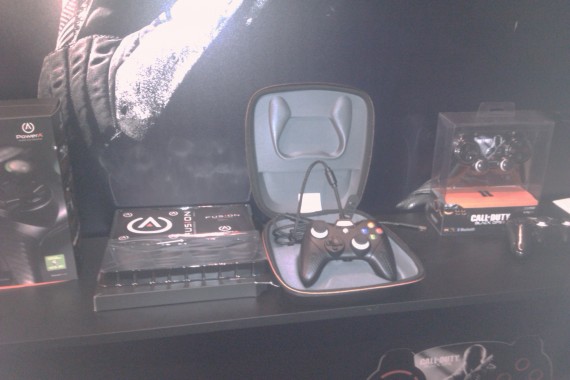 Bluemouth had two controllers on hand. One of these controllers is the official licensed controllers for Call of Duty Black Ops II. You might remember a report on its announcement, so I was quite intrigued. The controller looks nice. It will feature the Xbox 360 layout, despite it being a Playstation 3 exclusive. A second controller, the Power A Fusion, was also featured. This controller comes with some interesting analogue sticks. It gives the player more control in terms of movement. It will also come with its own carry case. This controller will be available for the Playstation 3 and Xbox 360.
Bluemouth also takes care of Skylanders, Activision's successful game involving collection toys and placing them on a portal for use in the game. The accessories displayed concerned Skylanders Giants. One particular accessory that caught my attention was the Battle Arena. This holds up to 16 figures, ready to be entered for battle. The Battle Arena will be available for Skylanders Giants, the upcoming sequel to be released this year. The Battle Arena has no release date as of yet, but was in use at the Bluemouth booth. Other Skylanders Giants accessories, such as bags and carrying cases, were also on display.
Check out the gallery below