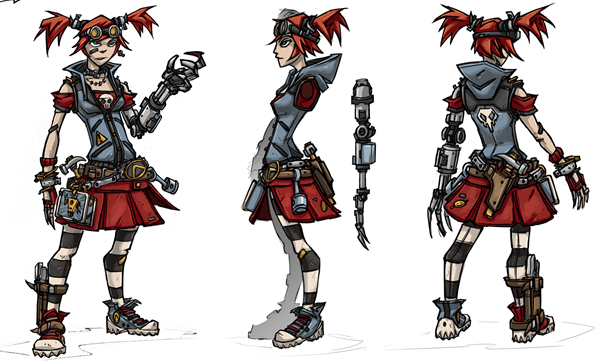 Borderlands 2 Game Designer John Hemingway recently spoke in an interview about a skill tree unique to the DLC only fifth class of the game, the Mechromancer. Stating within that it was for the people who "suck at first-person shooters" but want to help their friends out in the game. That wasn't what sparked the incredible fan reaction however; it was more so because of his description of the abilities, "for the lack of a better term, the girlfriend skill tree" says Game Designer John Hemingway.
Fan reaction to this statement was noticeably less than positive. Many gamers casually threw around terms of 'sexism' amongst the chaos, but these arguments seem to be unfounded. One is reminded of the absolute bombardment of IO Interactive after their CGI Nun Trailer was released; in which impractically dressed female assassins were taken out one by one by the lovable Agent 47.
Gearbox Software's President Randy Pitchford rejected the popular disapproval of one of his leading game designers and explained the info on Twitter, stating "The future DLC Mechromancer class has a skill tree that makes it easier for less skilled coop partners (any gender!) to play and be useful." Personally defending Hemingway by adding, "There is no universe where Hemingway is a sexist. All the women at Gearbox would beat his and anyone else's ass."
The fifth playable character of Borderlands 2, the Mechromancer has been marketed as mainly a support style class. It is intended for anyone who may not be 'gamers' themselves but merely wish to help out their friend or relative within the game. By adding such a class, Gearbox can appeal to a whole new market of potential players, vastly increasing consumer accessibility. Sounds like a pretty good deal for all involved.
The Mechromancer class will release mid-October as a free download if you are a Premiere Club Member or for $9.99 (800MS) if you didn't pre-order. Hopefully with slightly less fan outrage…