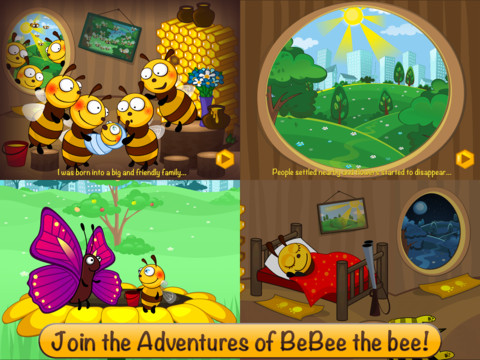 Looking for a new app that has the right mix of cute and colourful? Well you're in luck because indie developer Alex Vlaskin has released Bebee the bee, a free game where kids (or adults) can help Bebee collect nectar and pollen from 8 different kinds of colorful flowers. You explore the map, avoiding obstacles, pollinating flowers, dealing with deadly wasps by either fight or flight, and reaching a quota for nectar and pollen.
There are 14 challenging levels to fly through (including bonus and special levels), five different types of enemies, eight different flowers, and five animations celebrating your wins.
You can either use gesture controls, or if that's too new tech for you, then you can use a button system. Bebee is aimed at an audience of younger kids (but don't let that stop you), and was quite popular with kids at the EB Expo 2012. So if you're looking for something to keep the kids quiet during a road trip or waiting room, then you should definitely look at getting this app.
Check out the trailer for the game below!
BeBee the bee is available on the iPad for FREE – Get it HERE