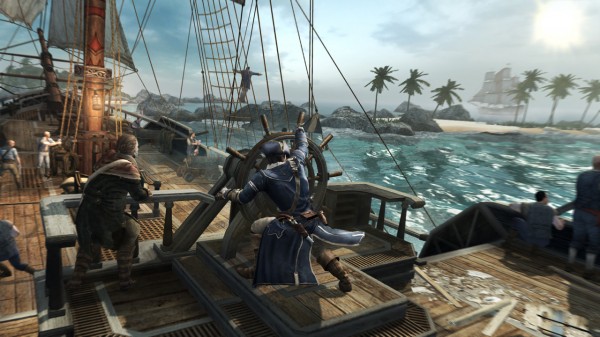 Ubisoft have announced that today marks the release of their latest Assassins Creed game, Assassins Creed 3. The games has launched on the Xbox 360, Playstation 3 and Personal Computer platforms today here in Australia. Alongside the colonial lifestyle simulator comes the handheld game Assasins Creed: Liberation. This is a handheld game developed for the Vita and is incredibly promising. The third instalment will also be launching on the Wii U when it releases at the end of November.
On the game Ubisoft had this to say –
"Assassin's Creed III is Ubisoft's biggest launch ever and the most ambitious game in our history. Today, we delivered on the vision the team had three years ago thanks to the tremendous talent and hard work of the many Ubisoft studios involved," said Yves Guillemot, Chief Executive Officer, Ubisoft.  "They have refined the core tenets of the franchise while also implementing brand new experiences, such as naval combat, that will captivate returning fans and newcomers to the Assassin's Creed universe."
Not only is the game out, but there is also planned DLC for the future of the game. Players will be able to purchase aSeason Pass for the title to get DLC as it comes out for free, rather than paying premium prices for each. The DLC will also be available for the Wii U version of the game.
Be sure to check out the official site for more info.