At this year's E3 event back in June, Sony's press conference highlighted first-look footage at many PS3 exclusive titles. Amongst them was the show-closer, and one of the most talked about gameplay unveils in recent memory in Naughty Dog's 'The Last of Us'. Those 7-odd minutes of gameplay had the auditorium in awe as Joel and Ellie traversed a post-apocalyptic Pittsburgh, getting themselves into conflict inside a (once) ritzy hotel with some uncouth scavengers.
Mock bathroom set up at PAX for The Last of Us demos! 
Well, just last week at PAX Prime in Seattle, Naughty Dog showed off an extended, alternate gameplay walkthrough of the very same hotel area. The new demo explored a sneakier, stealthier approach to traversal, avoiding most of the scavengers all together, and gave off a more "kill only as necessary" vibe. Command prompts are also visualized for the first time as we get a fuller image of what the game's final HUD will look like, and how we will interact with the world around us.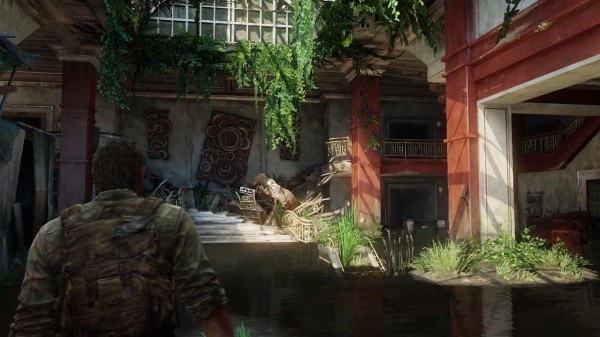 Now, where's that ladder…?
The 15 minute PAX demo also displays a much slower, tense pacing that is more indicative of the final product as the E3 demo was streamlined to fit time constraints for their slot in the press conference presentation. A great example of this streamlining is the placement of the ladder found by Joel and Ellie early on in each demo. In the E3 demo, the ladder was conveniently placed against a wall for the main characters to climb and progress quite quickly. In the PAX demo, the ladder was discovered to be placed on top of some indoor scaffolding, of which Joel and Ellie had to find a way to ascend to reach and attain the ladder, before setting it in the appropriate position to progress further through the hotel. To check out the jaw-dropping (not so) behind closed doors demo for yourself, click the video below!