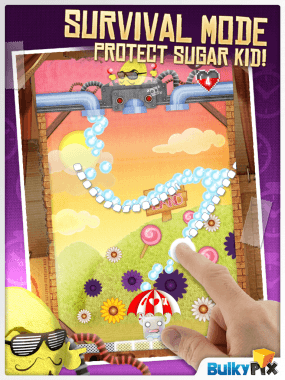 Bulky Pix announced their next iOS release today. Developed by A Crowd of Monsters, Sugar Kid will have players protecting our hero an adorable sugar cube from the evil Mr. Lemonade. Sugar Kid has usurped Mr. Lemonade from his throne and Mr. Lemonade has struck back! Protect Sugar Kid as he is trapped in a special water machine, left to melt in the cruelest way possible.
The game features over 90 levels, three game modes, cartoon graphics, epic costumes, and a dark sense of humour. Want to let your kids play Sugar Kid?  Or maybe you have a weak stomach. A low violence option is available for Sugar Kid.
Sugar Kid will cost $0.99 on the iTunes App Store and is slated for an October 4th, 2012 release. Check out the teaser trailer and screenshots below.