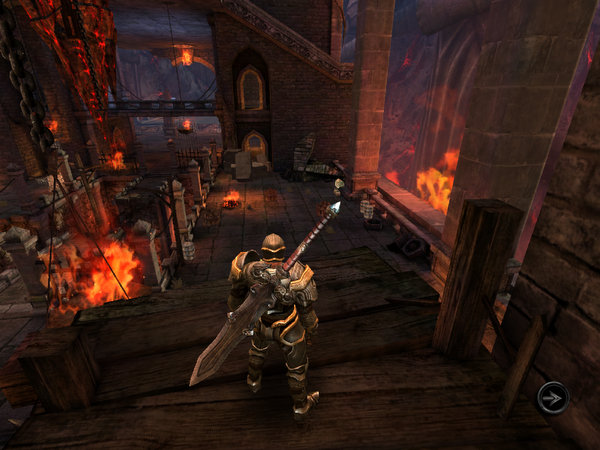 Welcome back for this week's iOS Game Suggestions. If you missed or are new to the suggestions, click on the link below and check what cool games you should be picking up for your iOS along with the introduction and disclaimer on how the suggestions work. (suggestions 1 has the disclaimer and how it all works)
MasterAbbott's iOS Game Suggestions
A great week on iTunes, as always it started slow and but ended with a bang! As always there certainly is a few must buy games this week in all departments, FREE, 99c and over 99c. This week i've suggested a total of 23 great quality titles. Make sure you check them all especially Middle Manager Of Justice,  Bombshells: Hells Belles, Monkey Slam, Wild Blood, Avengers Initiative and DRAKERIDER  just to name a few.
Break down below :
12 – FREE Games
4 – $0.99c Games
7 – Over $0.99c Games
As always for this week's suggestions are all new titles that you should take a look at and consider spending your hard earned iTunes cash / time on.  Well the Free games just below certainly should all be given a shot as they won't cost you anything!
For The Cheapskates – FREE GAMES
 

MASTERABBOTT'S FREE GAME PICK OF THE WEEK!

Middle Manager Of Justice – Price : FREE – Publisher – Double Fine Productions (Somewhere between GOOD and EVIL… Between ORDER and CHAOS… Between UPPER MANAGEMENT and the SENIOR STAFF… You'll find the glue that holds it all together: The Middle Manager of Justice! Congratulations, you are the new Middle Manager of Justice! You have been hired to whip the latest branch of Justice Corp. into shape! Train and manage your team of superheroes to thwart crime and save citizens around the city! Increase efficiency in your branch by building new facilities and upgrading the equipment! Could it be done without you? Yeah, probably. But it would be sloppy, costly and demotivating!) on iPad & iPhone. GET IT NOW FOR FREE

Tasty Fish – Price : FREE – Publisher –

Dime Studios

 (Being at the bottom of the food chain sucks, especially for Tasty Fish. Defy nature through addictive Tap-n-Play arcade-survival gameplay, and keep your school of Tasty Fish alive for as long as possible. Turn the tides by unlocking Exotic Fish to add to your school and with them increase your survivability to compete in global leaderboards or just prove how much better than your friends you are.

) runs on iPad & iPhone.

GET IT NOW FOR FREE

 
Monsterzzz – Price : FREE – Publisher –

Webgames

 (Have you ever been in a dream? What you see is not always what it looks like, right? The dream's fabric is made of light and shadow, and you will be it's weaver. Your task is to change the very dream's space and guide the nightlight through it to the socket, cleaning the dream from its monsters. This task is a difficult one, as the logic you're familiar with from your life is no use in a dream's reality.

) runs on iPad & iPhone.

GET IT NOW FOR FREE

 
Boom The Rock – Price : FREE – Publisher –

Hooligans Entertainment

 (Shoot for the stars in this wildly entertaining arcade puzzle adventure! Download Boom the Rock, pick up some serious firepower, use timing, problem solving skills, and an effective trigger finger to shoot one rocket after another into asteroids' faces, and discover what it feels like to save the world today! In Boom the Rock it`s your job to protect the Earth from certain annihilation at the hands of one pesky asteroid after another. The job is simple: at every stage you'll need to pick the exact trajectory to ensure you do three simple things: 

) runs on iPad & iPhone.

GET IT NOW FOR FREE

 
Legend Four HD – Price : FREE – Publisher –

Happy Elements

 (Legend Four features challenging puzzle based RPG game play, with addictive puzzles and replay value for the low price of nothing! With hundreds of monsters to battle and updates regularly, you'll be playing this game for months. The Kingdom of Eternal Summer, once a peaceful and prosperous nation, is under attack by the dark lord Soros. With the world in chaos it is up to you to harness the powers of the four elements – wind, fire, water and earth – to bring the world back into balance. Connect at least three tiles to attack, increase defense, restore magic and health during battle. The more items you can connect at once, the more powerful their effect. 

) runs on iPad.

GET IT NOW FOR FREE

 
Goblin Defenders: Sleel 'n' Wood – Price : FREE – Publisher –

Alawar Entertainment

 (Tired of the same old boring tower defense games? Goblin Defenders: Steel'n'Wood breaks the mold, as it is a truly unique game in every way! Why fight off hordes from one single direction, like most other games? No, how about troves of enemies coming from all angles? That is what Goblin Defenders: Steel'n'Wood is all about!

) runs on iPad & iPhone.

GET IT NOW FOR FREE

 
Final Freeway Coin – Price : FREE – Publisher –

NEWYTPE

 (Fast-paced old-school pure arcade racer, featuring: – Impressive sense of speed, 8 exciting and diverse levels, 3 original sound tracks, Game Center support, iPod music support, iPad and Retina display support, 6 control types, Very responsive and fun accelerometer steering, 3 play modes, 3 difficulty settings

) runs on iPad & iPhone.

GET IT NOW FOR FREE

 
Quiz Logo 2 – Price : FREE – Publisher –

PRISMAVER

 (700 logos, 12 levels, win différents cups : bronze, silver, gold and diamond! The episode 2 of Quiz Logo is a real challenge for you! 10 themes in thé game (10 musics), you can stop sound effects and the game is most difficult to respond at your comments in the first episode.

) runs on iPad & iPhone.

GET IT NOW FOR FREE

 

Akodomon – Price : FREE – Publisher – WowWee Group Limited (Explore the vast world of Akodomon. Go on quests, level up, upgrade and care for your creature. Discover hidden dungeons, defeat the evil horde and restore peace to the Akdomon world. Imbued with the god like power of the ancient guardians, your Akodomon can transform into its all-powerful alter ego. Each Akodomon also has its own unique strengths and abilities. Collect them all!) on iPad & iPhone. GET IT NOW FOR FREE

 
Campers! – Price : FREE – Publisher –

Glu Games

 (Welcome to Campers! Lead your little campers through a summer filled with wonder, exploration and adventure. Help them complete goals to get their badges while making sure that your camp is filled with fun activities and the happiest campers around!

) runs on iPad & iPhone.

GET IT NOW FOR FREE

 

Grabbity – Price : FREE – Publisher – Televisa (Fall for the game that will make you lose balance! The Grabbians existence is in danger, their energy has been stolen by the evil Crawlers that live underground. Their only hope is a little brave Grabbian that has decided to travel to all sorts of unknown worlds to save his species. Join him in this incredible platform journey into 7 worlds, 80 levels to conquer, multiple enemies to defeat and clever puzzles to solve. Prove your ability by moving your iPhone/iPad/iPod Touch in a 360º way, gravity does not exist!) on iPhone & iPad. GET IT NOW FOR FREE

 

Bombshells: Hell's Belles – Price : FREE – Publisher – Glu Games (These sexy pilots love fast planes, big guns, and shooting TOOL out of the sky.Bombshells will take you directly to the danger zone with unique environments, devious enemies, and ridiculous weapons! There are over 200 awesome planes, cannons, and missile launchers to try out. Fine tune your arsenal to dominate the skies!) on iPhone & iPad. GET IT NOW FOR FREE
For The Bargain Hunters – 99c Games
 

Mystery Cruise Adventures HD – Price : $0.99 – Publisher – Gameshastra Solutions (Who doesn't love surprises? So, when Amelie got an invitation to go on a cruise aboard the famous Seawind Ocean Liner, she was thrilled. She was on the top of the world when she set foot on the beautiful ship. But then, strange things start to happen all around her. Why are there pieces of paper littered all over her room? Why does the captain seem so angry? Who's whispering instructions to her from time to time? And why does she feel that the ship is hiding some deep, dark secret? ) runs on iPad. BUY NOW

 

Spirit Catcher – Price : $0.99 – Publisher – Berzerk Bot (The world of Azlanthia is thrown into darkness as evil creatures spawn from its very core. Help guide their Avatar against the hordes of enemies using her scythe to release traps onto the relentless hordes below. Smite your enemies in this unique physics puzzle game and then guide the creature's spirits into the catcher to end their evil reign for good.) runs on iPhone & iPad. BUY NOW

 

Pocket Trucks – Price : $0.99 – Publisher – Ganymede (The next step in side-scrolling physics based platform racers! The action takes place across many routes over a race course! Find the shortest way to the goal, beat the clock in time trials, and win the race against other racers.  Master the special race events, and find helpful goodies, collectibles but beware the traps, such as TNT barrels, spikes, or the fateful death roll.  Use awesome power-ups such as the spring, the jetpack or the legendary Icarus wings.) runs on iPad. BUY NOW

 
Monkey Slam – Price : $0.99 – Publisher –

Chillingo

 (Monkey around in this new take on brick-breaking!
Monkey and Ape are make a great team; monkey bounces around smashing the blocks and ape gets to chomp on all the juicy fruit that falls down! Take control of the comic duo in this brick-breaking game that's unlike any other.) runs on iPhone & iPad.

BUY NOW
For The Millionaires – All games over $0.99
MasterAbbott's over 99c Pick Of The Week!

Wild Blood – Price : $7.49  – Publisher – GAMELOFT (Gameloft has harnessed the power of the revolutionary Unreal Engine to bring unimaginable battles in real-time, full-3D graphics. Live the unforgettable journey of Sir Lancelot as you never have before! King Arthur has gone mad, fueled by his jealousy toward Lancelot for romancing his wife, Queen Guinevere. In his desperation, Arthur has been tricked by his sister, the all-powerful sorceress Morgana Le Fey, to open the Hellgate and allow all forms of demons to enter the world. Meanwhile, Morgana has captured Guinevere and holds her hostage on the magical island of Avalon.) runs on iPhone & iPad. BUY NOW

 

Avengers Initiative – Price : $6.99  – Publisher – Marvel Entertainment (Download the first installment of Marvel's biggest cross‐over mobile gaming event… Level up, gear up, and fight as Hulk in the first adventure of an episodic series built exclusively for touch screen devices. Track down and defeat some of the world's most notorious villains like Wendigo, Abomination, The Kronan, and The Skrulls, and help THE AVENGERS pull the world back from the brink of catastrophe. Marvel's Avengers Initiative, an episodic mobile gaming event unlike any other.) runs on iPhone & iPad. BUY NOW

 
Scorching Skies – Price : $5.49 – Publisher –

Overpower Studios

 (Imerse yourself in the endless clouds of the planet Fayre, to fight in a titanic war between millenia-old factions and emerge victorious with your fleet. Scorching Skies is a game where you build and customize your own wing of aircrafts, fight epic battles using any one of your planes, and even when all hope is lost, turn the tables in the last moment and emerge victorious.

) runs on iPad.

BUY NOW

 
Jungle Haste – Price : $1.99 – Publisher –

Rapid Turtle Games

 (Beep… beep… BOOM… trash! The spaceship crashed! Holy crap! In the jungle, Amazon, Brazil! Poor little alien calling for help… teet-teet… no answer. What should he do in the middle of the jungle alone? To hurry to get a new spaceship and to catch up with his fellows on the way to home!) runs iPad & iPhone. BUY NOW
 

Infinite Warrior – Price : $2.99  – Publisher – Empty Flask Games (In the fantasy world of Infinite Warrior, you are thrust into the role of a mighty warrior who fights against endless hordes of enemy armies in epic, visceral, cinematic combat. Incredible Cinematic Experience, take action and unleash hell on 3d Rendered battlefields by performing intuitive finger-swiping gestures and be rewarded with visually incredible, gritty and over-the-top animations recorded by Hollywood Fight Coordinators ! ) runs on iPhone & iPad. BUY NOW

 

DRAKERIDER for iPAD – Price : $21.99  – Publisher – Square-Enix. (Kill or be killed. Experience the perils of adventure with your ferocious sidekick in this brand-new smartphone RPG! The stage of DRAKERIDER is set in Igraine, a world on the brink of destruction due to the repeated attacks of the Dread. Aran Lawson, once an ordinary tracker, now finds himself as a dragalier—and mankind's final hope. This is the story of our hero and his dragon companion, Eckhardt.) runs on iPhone & iPad. BUY NOW

 

Nightmares from the Deep: The Cursed Heart, Collectors Edition HD – Price : $7.49 (iPAD PRICE) – Publisher – G5 Entertainment. (Set sail on a mind-boggling pirate adventure! Dive into an epic journey as a museum owner in pursuit of an undead pirate who has kidnapped your daughter, taking her away in his ghost galleon. You quickly realize that the undead pirate is entangled in a tragic, centuries-old love story, and wants to resurrect his mistress with the youth's life force. With danger lurking in every corner, you must act quickly to save the young girl's life before it is too late. Travel through haunting seas, ruined fortresses, and bone-covered catacombs as you uncover secrets from the past!) runs on iPhone & iPad. BUY NOW
There you have it folks, these games should keep you busy for quite some time, well till next week at least. I'll be back next week for another dose of iOS goodness, in the meantime if anyone would also like to suggest their own suggestions, please feel free to share them in the comments section below or in the iOS forum section on the site here.
Remember kids, Play Hard Or Don't Play At All!