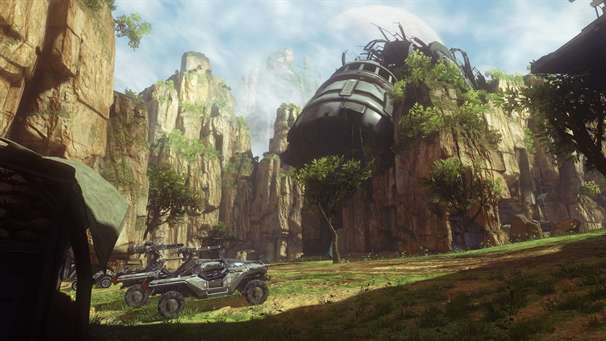 A new map for the Halo 4 was revealed this weekend over at PAX Prime. The new map is called 'Exile' and is technically the combination of Sidewinder, Blood Gulch, and Rats Nest all in one map and it is known quite well for its vehicular combat. The map itself was specifically built for the recently shown game types which were Capture the Flag and Oddball.
Capture the Flag has been updated quite a bit, as you are now able to hold a pistol while carrying the flag back to base. You are also able to sprint with the flag back to base but this all comes with one draw back, you cannot drop the flag. They have also added waypoints to the mode so you are now able to see where the flag is located, see how long before the flag responds, and so on.
The game mode Oddball was also updated and you are now able to throw the flag back and forth from player to player which gives the game mode a more active feel so to speak. These updates for Oddball are also in the fan favorite game mode Griffball.
You will be picking up Halo 4 when it releases on November 6, 2012, for the Xbox 360?  Let us know leave a comment below.