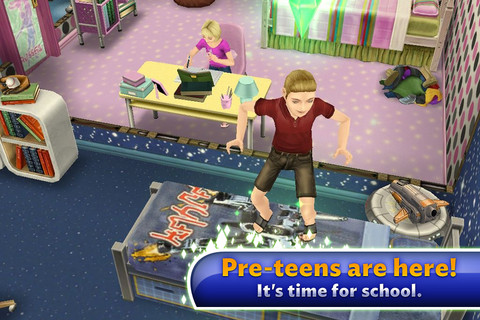 EA Mobile took home the big prize at the 2012 Meffy Awards this year, snagging the Social & Entertainment App Award with their hit game The Sims FreePlay. The award is described as "this category celebrates the best and most commercially successful applications that are focused on 'fun' – be it entertainment or social networking. " The Sims FreePlay was selected by a panel of independent journalists, analysts, academics, and VCs. "Congratulations to Electronic Arts for winning the 2012 Social and Entertainment App Meffy. The successful roll-out of the free-to-play model on this evergreen brand demonstrates the changing ways consumers are engaging with mobile games and apps," said Rimma Perelmuter, MEF Executive Director.
EA Mobile isn't resting on their laurels either. They pushed out a major update adding Pre-teens to the game. These children will need a school to attend, hobbies to keep them busy, toys to play with, and lots of clothes to wear. Check out The Sims FreePlay on the iTunes App Store here. The update will soon be released for Android on Google Play here.
In addition, the World Series of Yahtzee has been announced, bringing the classic game to the Canadian iTunes App Store first with a roll out to other territories soon. Monopoly Hotels has also been updating, providing players an opportunity to build rooms that can create the premium in game currency and charge rent in gold. Also, language support has been added for Japanese, Simplified Chinese, and Korean. Finally, NBA Jam and FIFA 12 have been launched on the Barnes & Noble NOOK app store. Check out all the latest happenings with EA Mobile at their site here.