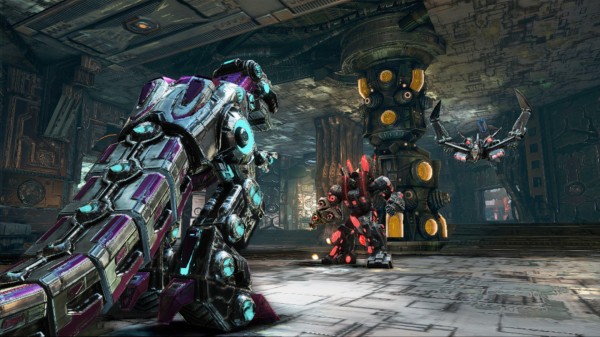 Only a few weeks after the intial release of Transformers: Fall of Cybertron, High Moon Studios have already announced new downloadable content packages. While day 1 character DLC packs have already been made available, the newest multiplayer update to the game, affectionately named the "Dinobot Destructor Pack" is set for release in only a week! Featuring the entire cast of Dinobot's included in the campaign of FoC as multiplayer mod packages, this package will be a must have for fans of the original Transformers cartoon, or for people who just like the idea of rampaging robot dinosaurs. Check out the official news release from High Moon Studios below:
Now that fans have experienced the epic single-player campaigns and multiplayer modes of TRANSFORMERS: FALL OF CYBERTRON, we wanted to let you know that the team at High Moon Studios listened to fans and have been hard at work on exciting downloadable content to support the growing Fall of Cybertron community. 
We are thrilled to announce that the legendary DINOBOTS will be playable in online multiplayer modes with the "Dinobot Destructor Pack," set to launch next week for the Xbox 360 and PlayStation 3.
The DLC pack will include the following characters, which includes their full body + individual body parts for use in the multiplayer character creator.
GRIMLOCK (T-rex)
SLUG (Triceratops)
SNARL (Stegosaurus)
SWOOP (Pteranodon)
See attached images for renders and screenshots.
The TRANSFORMERS: FALL OF CYBERTRON "Dinobot Destructor Pack" will launch on September 11th.  For more information, fans can visit www.facebook.com/TransformersGame or www.TransformersGame.com.