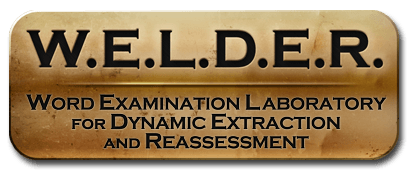 There is some big news from Ayopa Games and Highline Games this week. Firstly, the hit iOS word game, W.E.L.D.E.R., has been given one hell of an update in celebration of the new iPhone and iOS 6. New features include GameCentre challenges, new content such as Hot Tile Challenge bonus mode, and the ability to undo the last word played – an update that has been hotly requested by the fans. If you haven't already purchased the game, then now is a better time than any to experience W.E.L.D.E.R. 3.0.
New comers to the W.E.L.D.E.R. franchise should be pleased with the next announcement. Ayopa Games have now released W.E.L.D.E.R. Wars Free, a free version of the game's two-player mode. This is the complete multiplayer experience that enables you to challenge friends or strangers and battle it out using power ups in an attempt to outscore your opponent. Now you can verse your friends and it won't cost them a cent!
Both games are now available on the App store. Click here for the original, and now updated W.E.L.D.E.R. or click here for the new, W.E.L.D.E.R. Wars Free, for a taste of what it's like to weld words together and claim victory.