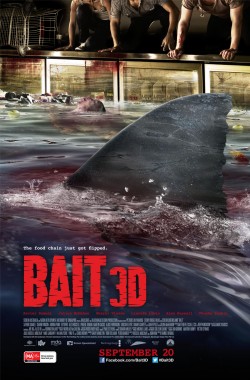 Bait 3D is a new ridiculous horror film about a sea dwelling creature, which doesn't at all sound like a familiar story line. Well, to be fair to Bait it is Australian and also is set in a super market where a tsunami has hit and flooded it while it was being held up by a robber. Bad luck, bro. So the storyline is somewhat more complex than previous sea-dwelling horror movies, and this time it is a great white shark and not a school of piranhas, that makes it different right?
A movie poster has been released featuring the tag line 'The food chain just got flipped'. This is probably intended to be a witty pun on the fact that they are trapped in a super market chain store, and that people are usually seen at the top of the food chain. However, sharks are generally regarded as being above us on the food chain – especially in the case of being trapped in a slowly flooding enclosed space with one.
Featuring an ensemble cast including Xavier Samuel (Grandmothers, Sanctuary, A Few Best Men, The Twilight Saga; Eclipse), Julian McMahon (Fire with Fire, Nip/Tuck, Fantastic Four) Sharni Vinson (You're Next, Blue Crush 2, Step Up 3D), Phoebe Tonkin (Secret Circle, Tomorrow When the War Began), Martin Sacks (The Cup, Underbelly), Alice Parkinson (The Cup, Sanctum), Dan Wyllie (The Hunter, Animal Kingdom) Alex Russell (Chronicle, Wasted on the Young), Lincoln Lewis (Underbelly, Tomorrow When the War Began) Cariba Heine (Blood Brothers, The Pacific) and high profile Singaporean stars Qi Yuwu (The Home Song Stories, Founding Of A Party) and Adrian Pang (Holiday, I Do I Do).
Check out the trailer for the film below. What do you guys think of Bait 3D, is it worth a watch or will it just be another one of those 'funny because it's so terrible' movies?
Bait 3D will be released in cinemas on 20 September, 2012.