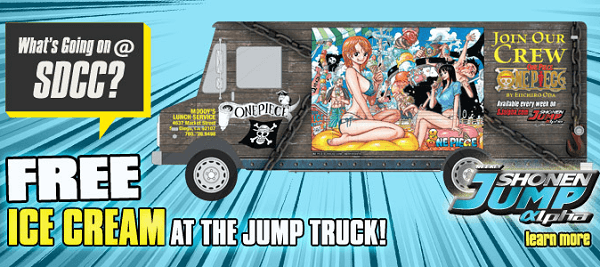 With Comic-Con International happening this week it only makes sense that Viz Media reveal what they are planning to do during said event. However one of the biggest draws of Viz Media's events may be the fact that they are giving away some free goodies, including free ice cream.
Shonen Jump fans can meet up at the company's food truck which may or may not look like the one shown above, though it would certainly be awesome if it does look like the one pictured. Either way, those who meet up at the truck can get a nice frozen treat, chat with the Shonen Jump Alpha team as well as meet other fans. Plus, those who visit the truck can take a picture with a life-sized statue of Luffy from One Piece and also have a chance to win some neat Viz Media and Shonen Jump goodies.
It is also worth noting that those who meet up during the show at Viz's booth, which is #2813, will have a chance to sample some of the latest issue's of Viz's near-simultaneous digital manga releases. Those who happen to sample the product and like it, can sign up for a year membership and get a special Slifer the Sky Dragon YU-GI-OH! trading card.
The company will also be hosting a panel on Saturday, July 14th at noon in Room 7AB. This panel will feature a number of special guests such as Yoshihisa Heishi, Kouji Yoshida and Kengo Monji. In other free goodies, the first five hundred people who stop by the Viz Media booth on the Preview Night can get a Shonen Jump Alpha tote bag for free. Those who don't get a chance to be one of these five hundred can still try and get a bag by completing various activities around the booth and getting lucky with their timing.