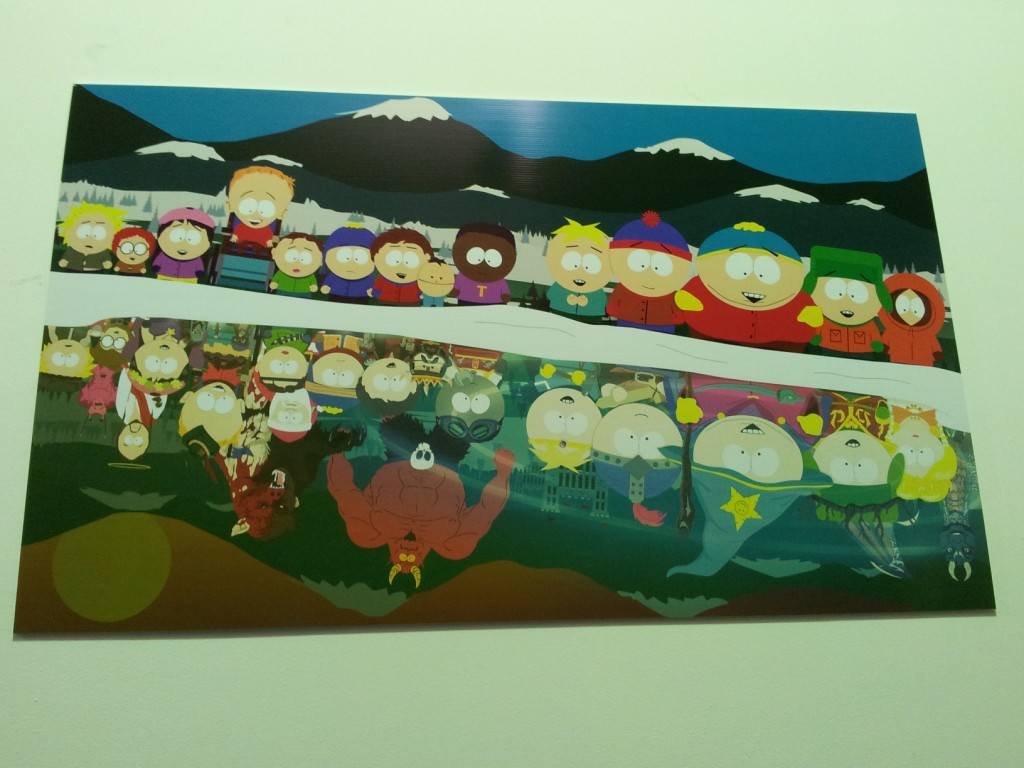 What is the Stick of Truth? To be honest I am not too sure, but after THQ showing of South Park: The Stick of Truth at Sun Studios, I want to jump headfirst into South Park and find out.
THQ opened their presentation of South Park: The Stick of Truth by introducing us to the game's protagonist which just so happens to be 'You', the player. Who'd have thunk it? The video demo featured the game's opening moments which involved a hilarious bit of comedy about the protagonist's parents wanting to 'Bless, their house' in which they have just moved to. They shove you off telling you to 'make friends' so they can have the house alone to erm.. 'Bless it'. The player in the demo knocked on the door which caused the player's father to come to the window naked telling you to 'go and make some friends' in a hurrying manner. This shows us that their is a level of interactivity with the environment, this was confirmed later on after the player made friends with fan favourite character Cartman.
The general plot of South Park: The Stick of Truth is that the entire town of South Park has been swept up in yet another craze, this time live-action role playing and in classic South Park fashion, it all gets unbelievably out of control. The LARPing plot lends itself well to an RPG game and it seems to work wonders here in the world of South Park in which it pokes affectionate fun at the genre itself.
As the demo progressed, Cartman (after accepting the player into his 'guild') asks the player his or her name. Upon giving your name which you type in yourself, Cartman says 'So your name is Douchebag?' which elicits a 'Yes' or 'No' choice. Selecting 'No' provided another question from Cartman, 'Are you sure your name's not Douchebag?' Yet another 'No' elicits one last response 'Okay then Douchebag!' and from then on you are referred to simply as 'Douchebag'. It's an affectionate jab at a long running trapping of voice acting in RPG games that allow players to name their characters and it works astonishingly well in terms of humour.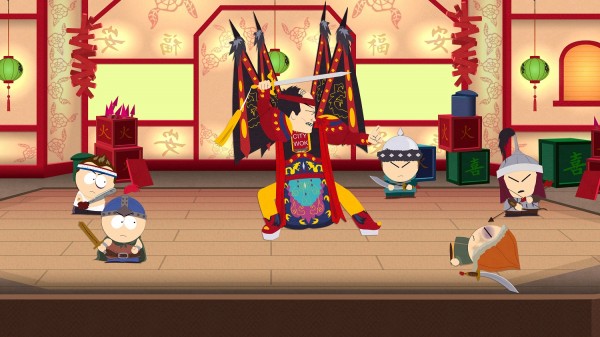 After that little exchange, the player was set free to roam Cartman's secret base, which featured a whole lot of interactive environment items such as 'The Rock of Insanity' and the 'Pool of Vision'. It's all very well detailed and gives true life to the world of South Park. Following this a brief cutscene ensued in which the titular Stick of Truth was stolen by another guild referred to as The Elves.
Once that cutscene concluded the demonstrator informed us that they were fast forwarding to an event later in the game in order to show off combat. The battle mechanics are best described as a cross between Paper Mario and Chrono Trigger, there is a real time aspect reminiscent of Chrono Trigger with a reflex component that harkens back the feeling of Paper Mario. It makes for a good mash up and it fits perfectly in the context of this game.
The player's character is fully customizable and is able to use a variety of weapons, attacks and summons based upon various parts of the more than 15 year long South Park lore. I personally found it absolutely hilarious that the character Mr. Slave could be used as a summonable character. I found it even more hilarious that his special move is the same 'move' that he used on Paris Hilton in a certain episode of the series.
This is certainly a game that is catering to it's source materials fans and with Trey Parker and Matt Stone working closely alongside the development team on the game, you can trust that this game has the South Park seal of approval. As the presentation ended we were treated to scenes of an epic war that occurs later on in the game. As a fan myself I couldn't help but notice the plentiful easter eggs sprinkled throughout the vast battle and left the presentation feeling like a giddy school girl who just discovered that they are making a new High School Musical movie.
All in all, this could very well be the best South Park game to date. It has all the makings of a great RPG game as well as a great game in general. My only qualm was that I just couldn't get enough. I wanted more of this game and I know for a fact that after this preview, I much like the LARPers in the game, will be looking to get my filthy mits on the Stick of Truth when it finally launches.