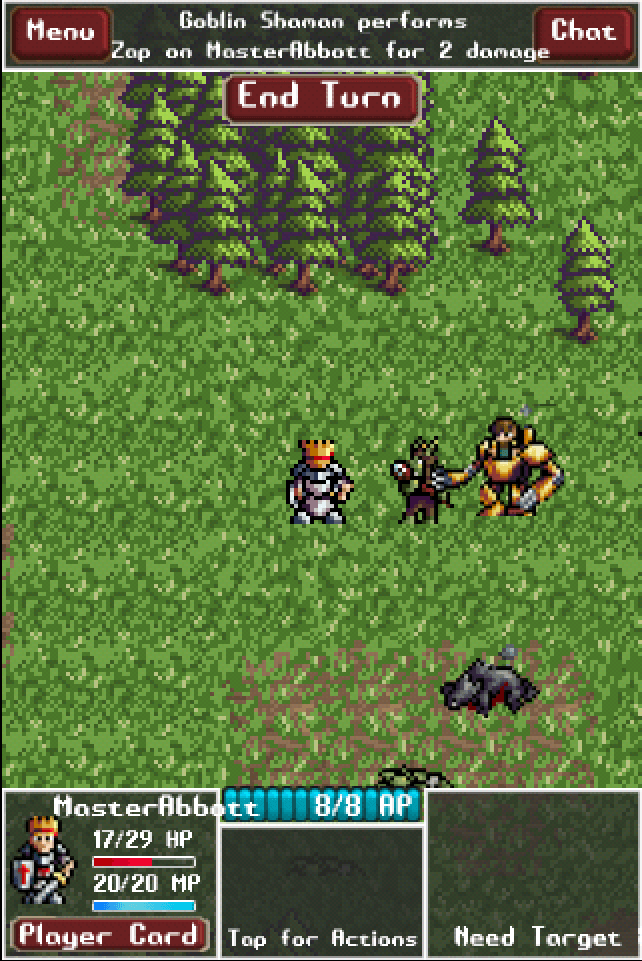 Welcome back for this week's iOS Game Suggestions. If you missed or are new to the suggestions, click on the link below and check what cool games you should be picking up for your iOS along with the introduction and disclaimer on how the suggestions work. (suggestions 1 has the disclaimer and how it all works)
MasterAbbott's iOS Game Suggestions
A VERY quite week on iTunes, as always it started slow and also ended slow, but as always there certainly is a few must buy games this week in all departments, FREE, 99c and over 99c. This week i've suggested a total of 16 great quality titles. Break down below :
6 – FREE Games
5 – $0.99c Games
5 – Over $0.99c Games
As always for this week's suggestions are all new titles that you should take a look at and consider spending your hard earned iTunes cash / time on.  Well the Free games just below should all be given a shot as they are FREE!
For The Cheapskates – FREE GAMES
 

MASTERABBOTT'S OVER 99c PICK OF THE WEEK

My Monster Rancher – Price : FREE – Publisher –Mobage (My Monster Rancher marks the first time the beloved monster breeding series will come to your smartphone. Fans of the series will recognize popular critters such as the adorable Mocchi or the devilish Suezo. Use your wits as a breeder to train and battle your monsters, or send them on adventures looking for hidden treasure. Visit your friends and work together to see who can be the best monster rancher in the world!) runs on iPad & iPhone. GET IT NOW FOR FREE

 

Sinbad – Price : FREE – Publisher – Rebellion Games (Set sail, conquer mysterious islands, defeat enemies and find priceless treasure! Become the ultimate hero of legend in the official game of Sky 1 HD's Sinbad. As Captain of your loyal crew, you must navigate the seven seas to recover lost relics that are the key to protecting the world from evil! Use treasure you find along the way to upgrade and maintain your trusty ship with new masts, sails and decorations. Be the envy of the oceans and your friends on Facebook!) on iPad & iPhone. GET IT NOW FOR FREE

 
Dragon Smuggler – Price : FREE – Publisher –

Psycho Bear Studios

 (Dragon Smuggler puts you in the shoes of a dirty Dragon Smuggler, trying to make as much money as possible. Stack as many tiny dragon crates side by side to fill up the whole row so that you can ship off the dragons. Easier said than done, Dragon Smuggler is a fun and addictive game of reflexes and strategy. It will puzzle even the best minds. If you want a top of the line game that is addicting and will keep you coming back for me, then try Dragon Smuggler. 

) runs on iPad & iPhone.

GET IT NOW FOR FREE

 
Doodle Cat. – Price : FREE – Publisher –

Mail.RU.

 (From the creators of the legendary action RPG Juggernaut: Revenge of Sovering comes… something entirely different! Meet the Doodle Cat! Create the Doodle Cat's Universe filled with objects and let him play with them! Like all cats, Doodle Cat loves to play, eat and sleep. But most of all Doodle Cat loves to discover and explore, and have new adventures! Combine and match various items to create new experiences for Doodle Cat. Any item you create is sure to get his curious nose twitching, and he will be happy to play with it!

) runs on iPad & iPhone.

GET IT NOW FOR FREE

 

Hairy Balls– Price : FREE – Publisher – Redtribe (Hairy Balls is a new, clever and fun logic puzzle game. Easy to pickup and play, challenging to put down. If you love puzzle games and you're looking for something fun and rewarding, challenge yourself to a game of Hairy Balls. Meet the balls Lola, Jerome, Graham & Dwayne. Hairy Balls can only travel in straight lines and only stop moving when they hit something. Get all the Hairy Balls to their correspondingly coloured mushrooms to clear a level. Use obstacles and other balls to solve the puzzle.) on iPhone & iPad. GET IT NOW FOR FREE

 
Major Mayhem – Price : FREE – Publisher –

Adult Swim

 (Meet the newest recruit in the Adult Swim Games army: Major Mayhem. He's got an itchy trigger finger, some scratchy stubble, and a fondness for shooting dudes in the face. Run and gun your way through gorgeous 3D environments as you embark on a mission to rescue your kidnapped girlfriend from the Forces of Evil. Guns, grenades and an assortment of other tools of destruction are at your disposal, and you'll need every last one of 'em. So what are you waiting for, Major Mayhem? The future of the Free World — and your love life — hangs in the balance.

) runs on iPad & iPhone.

GET IT NOW FOR FREE
For The Bargain Hunters – 99c Games
MasterAbbott's 99c Pick Of The Week!

Pocket Heroes – Price : $0.99 – Publisher – Ayopa Games (Quest with your friends in Pocket Heroes, the first cooperative multiplayer-only RPG built exclusively for iPhone! Featuring hand-crafted dungeons, intuitive gameplay, and hours of quests, this is a must-have experience if you love dungeon crawling, role-playing, and co-op gaming.) runs on iPhone & iPad. BUY NOW

 

Knights Of The Round Cable – Price : $0.99 – Publisher – Chillingo (In a crazy medieval world, control one of the famous Knights of the Round Cable and fill up your pockets with gems scattered throughout each level. Use your grappling hook to swing around the anchor points in the scenery. Use your reflexes to change direction, collect treasures and dodge the attacks of your enemies!) runs on iPad & iPhone. BUY NOW

 

Cubic Monster Pro – Price : $0.99 – Publisher – Mad Head Limited (Cubic Monster is a Superb game! This 3D intelligence game tests your brain , inviting you to a mastermind battle! The 3D effects along with 10 different bombing effects give players a real shocking experience! Players need to make use of different cubes' characteristics to pass each level with the least steps and within the shortest time. All the levels are independent from each other, but players will encounter different level of difficulty. Players must obtain a certain score in order to unlock the next level. You can play Cubic Monster on your iPhone and iPad, for Lite (at most:13 levels) and Pro (total: 40 levels), don't miss it!) runs on iPhone & iPad. BUY NOW

 
Amazing Alex – Price : $0.99 – Publisher –

Rovio Entertainment

 (AN AMAZING NEW PHYSICS PUZZLE GAME FROM THE CREATORS OF ANGRY BIRDS! Meet Amazing Alex! This whiz kid has a boundless imagination and a houseful of fun toys that can turn anything into an adventure! From cleaning up his room to battling cardboard robots in his backyard, Alex creates amazing chain reactions to get the job done with the maximum amount of fun! Now he has some challenges for you — and he wants to see the most creative solutions YOU can create! With 100 challenging levels across four fun-filled locations, there's a whole world of creations to explore!) runs on iPhone & iPad.

BUY NOW



Crash Birds Islands – Price : $0.99 – Publisher –

ANIMA Entertainment

 (Fasten your jetpacks and get your helmets ready for a whole new Crash Birds game! Crash Birds Islands is the ultimate 3D bird flight simulation on your mobile or tablet device. Following up the 2010 top ten hit, Crash Birds Islands takes you to a completely new bright and colorful 3D world. Fly three cute bird characters through 45 fantastic levels and master all the different challenges. Just pull the sling shot and let it go:) runs on iPhone & iPad.

BUY NOW
For The Millionaires – All games over $0.99
 

MasterAbbott's over 99c Pick Of The Week!

Metal Slug 3 – Price : $7.49  – Publisher – SNK PLAYMORE. (The legendary NEOGEO 2D action shooting masterpiece "METAL SLUG 3" heads out to iPhone devices! Use various weapons and slugs to fight your way through and survive on the battlefield!! Not only a perfect port of the original NEOGEO game! In addition to its classic "ARCADE MODE", this perfect conversion of "METAL SLUG 3" includes a "MISSION MODE", allowing you to select in which stage you want to play! You can now train yourself in your favorite stages or those which give you a hard time!) runs on iPhone & iPad. BUY NOW

Assault Commando Pro – Price : $2.99 – Publisher –

2D Magic Kft

 (A classic arcade style 3D shooter game, set in the south American jungle. Based on the old Commodore64/Amiga game "Rambo" and "Commando". You have to help Jack Gunfire, a cynic war hero to stop Albrecht Braun from taking over the world.

) runs on iPhone & iPad.

BUY NOW

 
Tiny Wing HD – Price : $2.99 – Publisher –

Andreas Illiger

 (You have always dreamed of flying – but your wings are tiny. Luckily the world is full of beautiful hills. Use the hills as jumps – slide down, flap your wings and fly! At least for a moment – until this annoying gravity brings you back down to earth. But the next hill is waiting for you already. Watch out for the night and fly as fast as you can. Otherwise flying will only be a dream once again.

) runs on iPad.

BUY NOW

 
Spectral Souls – Price : $11.49 (FREE DOWNLOAD) Game Unlocked after Demo Ends – Publisher –

HyperDevBox Japan

 (Neverland is a world apart from our own, home to strange and dangerous creatures. Two of these creatures, humans and demons, have been struggling against each other for many years. As the centuries passed, control shifted from demons to humans and back again. The humans finally earned a clear victory after the First Neverland War. But this left the country in ruins and was the direct cause of the Second Neverland War, which saw the decisive victory of the demons once again.) runs iPad & iPhone. BUY NOW
 

Criminal Investigation Agents – Petrodollars – Price : $5.49  – Publisher – Microids/Anuman. (Step into the shoes of female investigator Keegan and bring down the people that think they're above the law. Following a series of tax frauds, conflicts of interest and the murders of various inspectors, the investigation is led in the field by specially-trained police officers, experts in tracking white-collar predators. At the center of the famous government agency, the "Federal Tax Bureau" (a.k.a. the "F.T.B."), is a team dedicated to the most serious affairs – the "Criminal Investigation Service".) runs on iPhone & iPad. BUY NOW
There you have it folks, these games should keep you busy for quite some time, well till next week at least. I'll be back next week for another dose of iOS goodness, in the meantime if anyone would also like to suggest their own suggestions, please feel free to share them in the comments section below or in the iOS forum section on the site here.
Remember kids,
Play Hard Or Don't Play At All!