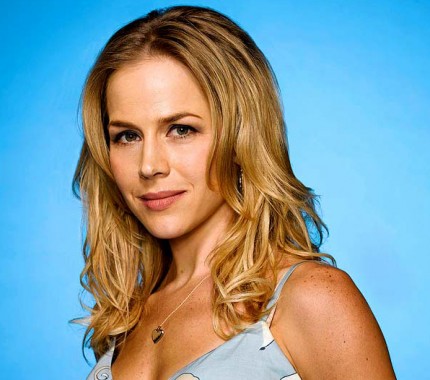 The lovely Julie Benz is known to most people for playing two prominent, very different characters: Rita, the sweet, unsuspecting wife of our favourite serial killer, Dexter, and the cunning vampire seductress Darla, in Buffy the Vampire Slayer.
Her panel at Oz Comic Con this weekend kicked off with questions about the death of both characters during the shows. Julie discussed her reaction to Rita's unexpected death in the final minutes of season four. Apparently, her first thought was that she'd lost her job, the second, "who's going to look after the kids?!" While her initial reaction was disappointment, she says she later understood the creative reasons behind the decision. Dexter has grown a lot as a character in the two seasons since.
Somewhat reluctantly, Julie said she hadn't watched the later seasons of the show, although she apparently keeps in touch with the cast and crew, and is aware of how the story arc has progressed.
Darla is no stranger to death either, having been responsible for many throughout the centuries, and finally meeting her own, at the hands of her lover Angel. And then again later, at her own hands. It's a long story.
Julie discussed Darla's complicated role in the show, as she went from the generic "Vampire Girl #2", to playing a larger part, mostly as a sympathetic antagonist.
As expected, Joss Whedon was then brought up by the audience, because no panel is complete without a mention. Julie gave the standard response, i.e, that he was a pleasure to work with.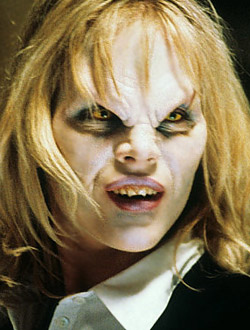 There's always one particularly awkward question, and this was a doozy: some guy tried to ask her out, to the collective groans of the audience. No doubt used to that kinda thing, Julie laughed it off without being mean, and casually slipped a mention of her husband into the conversation. But here's a tip for the guy: if you simply must ask out a celebrity, perhaps avoid mentioning a "food fetish" in front of a crowd of thousands.
The questions kept coming, and Julie didn't miss a beat. She discussed her inability to watch the Saw movies, and how filming Saw V freaked her out due to the realism of the traps. And yeah, she vomited on set one day. Can't blame her.
She explained the demise of sci-fi/comedy/drama/superhero series No Ordinary Family, in which she plays Stephanie, the mother of the family. It was in an inconvenient Tuesday night timeslot, competing against NCIS, Glee and the Biggest Loser. Those are some of television's biggest shoes to fill, and of course, the network assumed the slow audience pickup was the show's fault, and didn't sign on for a second season. Which is a pity, because I watched the first (only) season, and although it was a little slow, it ramped up nicely toward the end. Most shows need more than a season to really find their feet, but unfortunately, many aren't given the chance. It's on DVD though, so give it a watch.
A couple of other stories gave the audience a glimpse at what Julie was like off-camera, as she told us she'd been mistaken for Christina Applegate, and took a photo with fans anyway. And how she had been so starstruck by Jack Nicholson during a scene in As Good As It Gets, that she interrupted a take by blurting out "Oh my God! You're Jack Nicholson!" This is after being on set with him for a while, by the way. And oh yeah, don't bother seeing Locust: The Eighth Plague. That was her one film that she hated.
She closed the panel by discussing the basic premise of the new series, Defiance, coming in 2013 to SyFy. It's set to follow an interesting formula, with the show accompanying a third-person shooter MMO in what's being promoted as the first major trans-media production. The game will be updated on a weekly basis to reflect what happens in the TV series, and it might follow that what players do in the game influences events in the show. It's a fantastic idea, and one that could revolutionize the relationship between video games and other media.  Defiance will be one to keep an eye on.
For more panels, interviews and impressions, check out the rest of our coverage of Oz Comic Con.