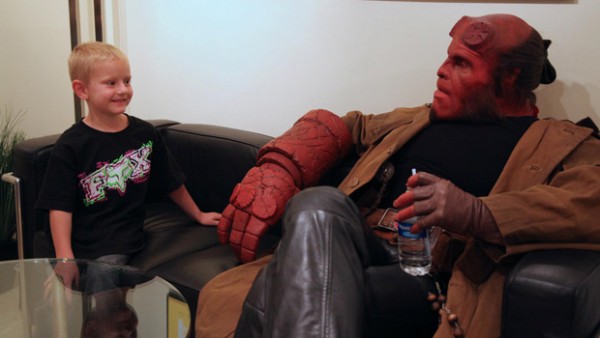 Last week Ron Perlman dawned his Hellboy attire, and visited a terminally ill fan for the Make A Wish Foundation. Which is a pretty cool thing for Perlman to do for the fan.  Hellboy Series director  Guillermo del Toro who is currently working on Pacific Rim, and the game InSane, was so touched by the photo that he had this to say.
"I've encountered a lot of kids who are fans of the movies, but to hear the story of this kid who was watching the movies while going through treatment, it really just moved me a lot…I can say publicly that now we are together in trying [to do Hellboy 3]."
Hellboy 2: The Golden Army was an amazing film, and I wouldn't mind seeing a Hellboy 3, The next time we see Ron Perlman in theaters is in Pacific Rim July 11  2013. InSane del Toro's first video game project is set to release in 2013 as well. What do you think of the possibility of Hellboy 3?