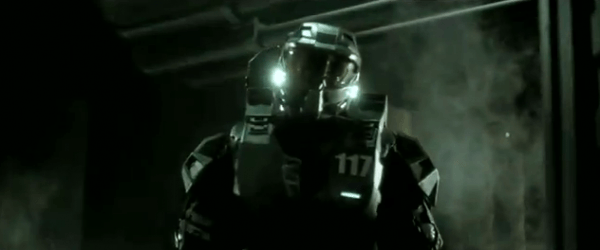 San Diego Comic-Con really do get all the coolest things. Today 343 and Microsoft revealed the official trailer for 'Halo 4: Forward Unto Dawn', a live-action digital series based on the Halo franchise. The series will initially be distributed worldwide through Machinima's new Youtube channel, Machinima Prime, as well as on Halo Waypoint on October 5, 2012.
Halo 4: Forward Unto Dawn will feature five episodes, gearing up for the release of Halo 4 on November 6, 2012. Machinima will also be releasing exclusive content, backstory, and character pieces leading up to the launch of the series.
Halo 4: Forward Unto Dawn will take fans back to the beginning of the human and Covenant war and lead into the events of Halo 4. Set in the UNSC military academy the movie follows cadet Thomas Lasky as he struggles with his doubts about the war and questions his role in it. Then the Master Chief comes in, is all awesome, and inspires the cadets to take up the mantle they are intended to.
An extended, 90-minute Special Edition featuring additional footage and bonus content will be available Nov. 6 in the Halo 4 Limited Edition and on video on-demand services.
The Halo 4 Limited Edition also includes the following bonus content:
· In-fiction content expanding the characters and stories of "Halo 4: Forward Unto Dawn"
· Special Featurette: "Bringing Gaming into Reality"
· Making of "Halo 4: Forward Unto Dawn"
So check out the trailer for the series below and let us know what you think in the comments section. Are you guys interested in the live action series or is this not really your thing?