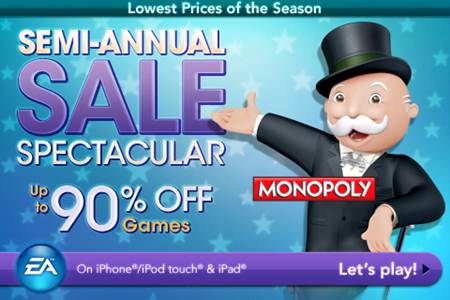 Ah sale time, be still my beating heart. EA Mobile has announced that for the 4th of July they're going to be having a huge sale, just to celebrate the freedom of speech, or fireworks, or whatever America loves to celebrate. And hey, I'll celebrate America too if it means getting a massive discount on games.
From July 4th until the 9th iOS games will be available for up to 90% off their normal prices (and some are actually going for FREE). There is a huge range available, for a full list of the current sale titles head over to the EA Mobile Daily Deal site HERE. Some of the included titles include games such as Battlefield: Bad Company 2, Dead Space, Madden 12, and Fifa 12, on the iPad as well as iPhone and iTouch platforms.
Check out the trailer advertising the awesome sale below. What are you guys keen on getting? Is there anything sticking out for you that you've been waiting for, or that you suddenly want to impulse buy?