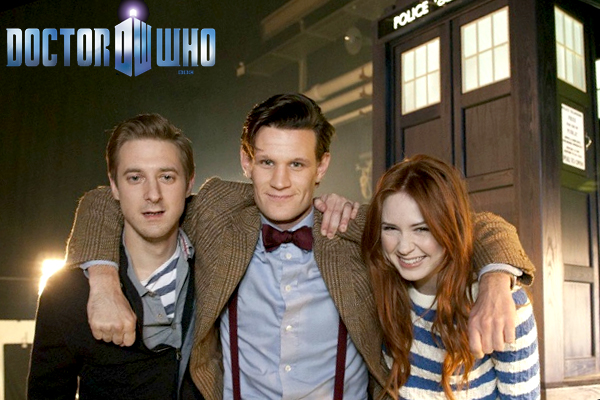 When we last left the Doctor, we found out who River Song was, we found out who Amy and Rory were, and we found out how the Doctor died. And Whovians across the world were left with an agonising wait to find out what happens in the continuing adventures of the Doctor.
At San Diego Comic-Con, a Doctor Who panel attended by season runners Stephen Moffat and Caroline Skinner, 11th Doctor Matt Smith, and Companions Karen Gillan (Amy Pond/Williams) and Arthur Darvill (Rory Williams), was held. With the line to get into the 6000+ seat auditorium already in progress at 8 pm the night before, many Whovians braved the night and entered the room to the sound of the Master's drums.
It was already known that Amy and Rory would be leaving the show in series 7, presumably after an encounter with the Weeping Angels, but new news from the panel were as follows:
The series will open with 5 episodes, then follow with a Christmas Special. 8 more episodes will follow in the new year.
The first episode of the series is entitled Asylum of the Daleks, apparently with all the old Dalek designs thrown in it.
Toby Whitehouse pens the third episode cowboy epic, "A Town Called Mercy". White house also wrote the second series 3rd episode, "School Reunion".
Chris Chibnall writes an episode entitled "Dinosaurs on a Spaceship", which Moffat explains that it is what the title exactly is. Chibnall is known for his work on Torchwood, but also wrote the episode "42″ for Doctor Who series 3.
Mark Williams, known for playing Ronald Weasley's father on Harry Potter, will be appearing as Rory's father.
Rupert Graves, known for playing Lestrade on the BBC show Sherlock, will also make an appearance in the aforementioned episode, "Dinosaurs on a Spaceship".
Other news is as follows:
Arthur Darvill will be appearing alongside former Doctor David Tennant on a new show called "Broadchurch". It is produced by Doctor Who alumnus Chris Chibnall and is about the impact of what happens when the media sensationalism descends on a small town upon hearing of a murder.
Matt Smith's favourite Doctor Who monsters are the Weeping Angels.
Karen Gillan to star opposite Stanley Webber in a Scottish Indie film called Not Another Happy Ending, then returning to America to work on a supernatural drama named Oculus.