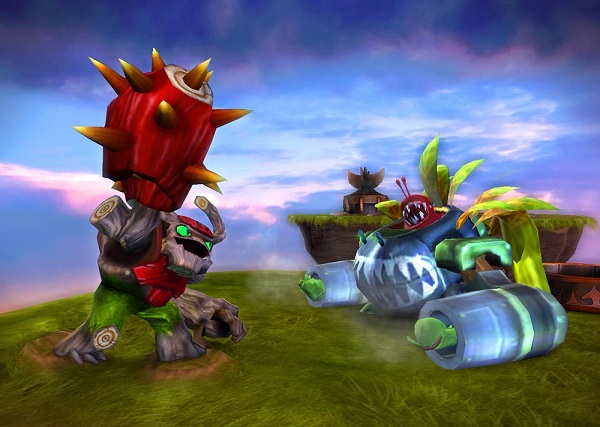 Skylanders was a very successful experiment for the people over at Activision so it only makes sense that they continue this experiment with their next title, Skylanders Giants. At a behind-the-scenes showing of the game during E3 this year we were given a first-hand look at some of the new features gamers will be expecting when Skylanders Giants is released. Now as one may expect, there will be plenty of new adventures to be had in this game, but don't worry, all of your old items and old Skylander figures will be completely usable in this sequel and they will even carry over their levels as well. This provides a nice little bonus for those who have hit the maximum level cap of 10 in Skylanders, considering the level cap has been raised in Skylanders Giants to 15, allowing even further character progression than ever before.
Now along with a number of new adventures, brand new areas to explore and more hidden routes and areas, some new Skylander Figures were revealed during this showing as well. For example, Jet-Vac is an air type Skylander who can actually suck up items or enemies and shoot them back out, and Pop Fizz a new alchemist character who can cause explosions and grow larger with his potions. Besides this new character, a new type of figure was revealed, called light-corp, which are basically figures that will actually glow when placed on the Skylander portal.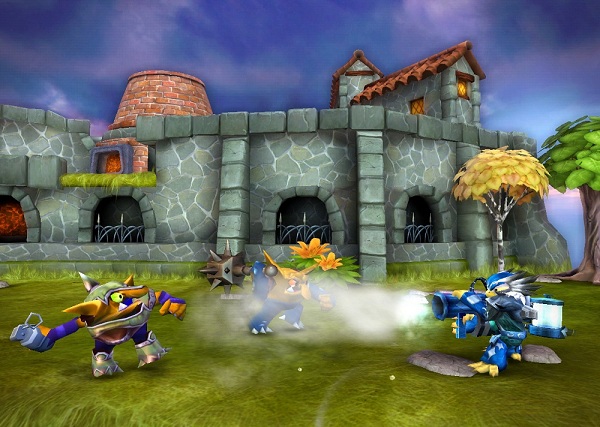 The figure that was demonstrated was Prism Break, a previous ground type Skylander. The interesting thing behind these guys is that whenever they are called into battle they will actually cause a blast of energy to hit every enemy in the area. Besides these new figures and new types, Series 2 figurines will also be introduced. The figure shown off to us was Cynder, a previously available Skylander figure who will now be able to use a number of new attacks besides her figurine having a new type of pose.
The key new feature to Skylanders Giants is of course, the Giants themselves. Players will be able to experience a number of new gameplay mechanics when trying out these larger Giant fighters, such as picking up and throwing boulders as they roam about the map with characters twice as large as other Skylander figures. Now we were shown two of the eight giants which will be avaialble when the game is released, Tree Rex who is a giant, life-type element capable of using a "reverse-photosynthesis" beam and Bouncer, a robotic Giant Skylander capable of shooting rockets out of his back, firing guns out of his fingers and using laser vision.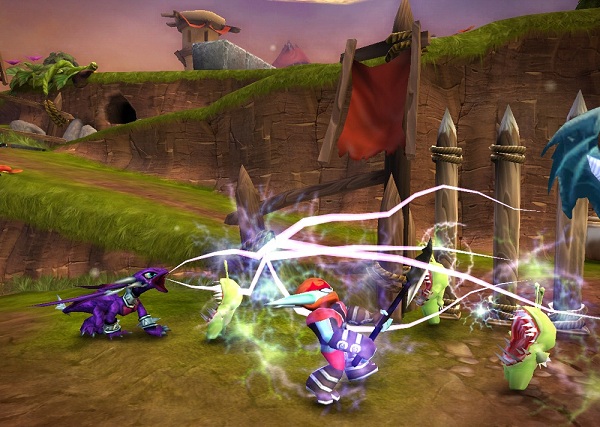 Besides these eight giants, eight new basic figures will be added to the mix, one for each of the Skylander elements, along with a number of Series 2 type figurines. Those curious about what characters will be available in the game's starter pack will be happy to hear they will be receiving a Series 2 Cynder, the brand new Jet-Pac as well as the Giant figure Tree Rex. Those who simply want to pick up the game on its own will be able to do so and still receive Tree Rex as a bonus.