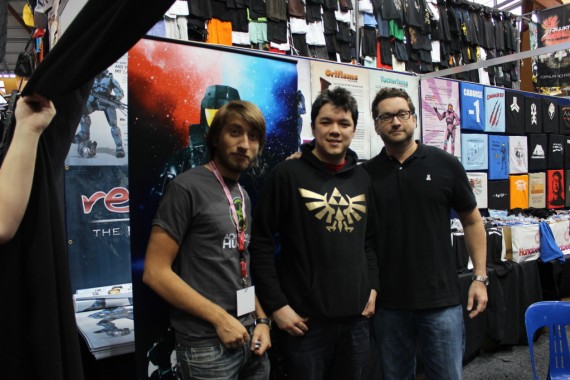 Sydney Supanova 2012 certainly had its fair share of celebrity guest appearances this year. From anime voice actors to big screen stars to cyber culture icons and everything in between, there was something and someone for every nerd, geek and fan to look forward to. Naturally as gamers, two particular guest stars caught the attention of the Capsule Computers crew. This year we were fortunate to have the chance to meet and interview Burnie Burns and Gavin Free from Rooster Teeth productions. Most famous for the production of "the popular web series RedvsBlue" the pair took some time out of their busy schedules at the event to speak with us one on one.
Michael 'Burnie' Burns is best well known as the voice of the snarky blue soldier Church in RedvsBlue, as well as acting as the head of Roosterteeth (at least until recently we discovered.) Gavin Free is one of RoosterTeeth's community-fans turned employee who added his own level of fame to the company by saying "Headlight Fluid" that one time on the RT Podcast, and by being known for voicing characters within the series whom have been killed off instantly. Despite how busy their stall was throughout the day, the two seemed to be in genuinely good moods and were clearly loving the chance to meet fans in an entirely different country, outside their US base of operations.
In the interview we discussed several topics like how they were finding the Australian reception and learing about some interesting roster shuffles. Memories were revisited, advice was imparted and the interview was ended in true Roosterteeth style: With Gavin dying immediately and Burnie's Church being his usual up-front no-nonsense self.
Check out the interview for yourselves below!