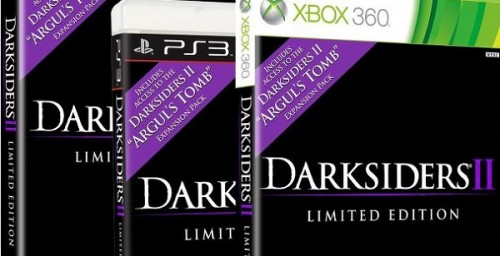 So for those of you who are looking to get Darksiders II and were wondering just why you should pre-order yourselves a copy, THQ have got an answer for you. For Australians if you put an order down on a limited edition of Darksiders II via shopTHQ Australia you will get a Darksiders II season pass as well as an exclusive set of in-game armour and free shipping.
The Darksiders II Season Pass entitles customers to download the second and third DLC packs when they become available online for free. As well as this, pre-orders are automatically upgraded to the limited edition of the game which includes the first DLC pack, Argul's Tomb. This first pack will be available about one month after the game is released, and all of the packs will include significant single player content.
As well as these packs, you will receive an exclusive Maker's Armour and Scythe set, with upgraded stats and a unique design, it will give you a boost during the game.
Unfortunately Season Passes are not available for Playstation 3 in Australia, so shopTHQ will be offering the limited edition of Darksiders II with Saints Row 2 for free. The PC download version also includes Metro 2033 for free as well.
The Vice President of Global Brand Marketing, Jim Huntley, states about the pre-order package:
"We are excited to be able to reward customers who pre-order the game via shopTHQ with these great incentives. Not only will they get a unique armor set at launch, but they will also get significant free content for months to come. And while the Season Pass is not available on PlayStation 3 in Australia, we think PS3 owners will enjoy the opportunity to play another THQ title in Saints Row 2 at no extra cost."
So head on over to THQ's site and pre-order your copy of Darksiders II HERE!
Darksiders II is due for release on August 16, 2012 in the Australia and August 14 in the US on Playstation 3, Xbox 360 and PC. The WiiU's date set for a tentative late 2012. Keep tuned to Capsule Computers for more news on Darksiders II as it is released.