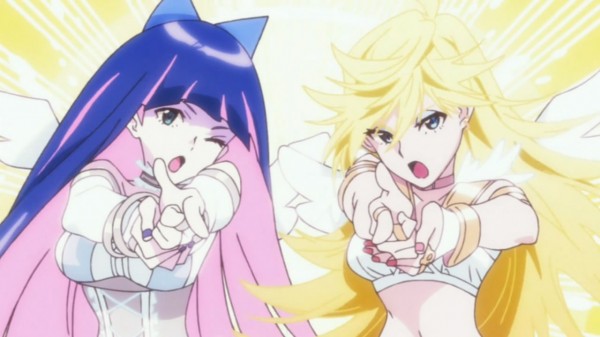 A week ago FUNimation uploaded a couple of new trailers for their English dub of Panty & Stocking with Garterbelt and a few inquisitive fans found that both of these videos were tagged with Adult Swim and Cartoon Network. Now with FUNimation's heavy lobbying for Panty & Stocking to appear on Adult Swim and obvious fan support, anime fans wanted to know what this could have meant.
Well, Scott Lonski, the Communications & Events Manager with Funimation made a statement to ANN concerning these tags:
The tags on the clips are put in purely for search reasons, so nothing should be inferred. We think fans of Adult Swim would be interested in the clips, nothing more, nothing less. While we have sent screeners of Panty & Stocking with Garterbelt to Cartoon Network for their review, we do not have an update as to whether or not they have chosen to add the title to their anime lineup.
It seems that for now all fans of the series can do is pick up the uncensored English release in a few weeks when it comes out on July 10th. Or y'know, do so now here.