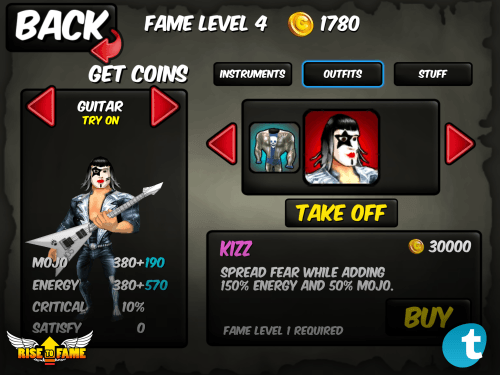 Rise to Fame, the new musical RPG from Entertainment is My Life has successfully launched over the weekend. The Rock RPG game was released on iOS devices for the low price of $0.99 for the SD version, with the HD version setting you back $1.99, we also featured in this week's iOS suggestions.
The game offers everything you would expect from a Rock RPG, plenty of stage dives and guitar smashing and… zombies. Sadly there is no whack-a-zombie minigame and instead the zombies are purely part of the crowd, you can still stage dive into them though! Check out the features below and also head on over to the iTunes page to pick it up (Click  here ):
Features include:
* 5 original rock songs and cool 3D graphics
* The power to alter music tracks with special abilities
* Perform a great gig to earn money and fame, unlock new gigs and special skills
* Make the in-game money work for your band:
* Buy skills, potions and more
* Customise your band's looks with awesome outfits
* Get the best instruments to push your band to its finest hour
* Over 20 upgradable skills, 7 stage venues and 22 levels of one joyous journey to the top!
Check below the break to see the game in action with the trailer.