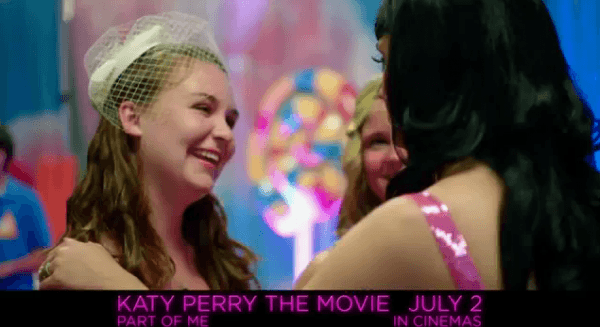 Paramount have released some more clips from the upcoming Katy Perry: Part of Me 3D movie to join the rest of the clips they have released.
The first is a clip about Katy Perry's fans, who range from small excitable kids, to older, excitable adults. It's sweet how warmly Katy treats them, and it is nice to see the positive effect that Katy Perry has on fans. Often singers will instill a sense of hope and inspiration within fans, and it certainly looks like Katy Perry has done this with her fans.
The second clip is about her grandma, a cute little few moments that seeks to take the grandeur of Katy Perry's life and her performance and ground it more for the watcher. Judging from the clip, it will probably work, because like most grandmothers she's got a healthy dose of sass on her.
Check out the videos below!
Katy Perry: Part of Me 3D is hitting cinemas on July 5. Keep tuned to Capsule Computers for more information as it comes out!
[pro-player width='530′ height='253′ type='video']http://www.youtube.com/watch?v=WdC5L9x14K4&feature=youtu.be, http://www.youtube.com/watch?v=0jnGhbE2kYE&feature=youtu.be[/pro-player]