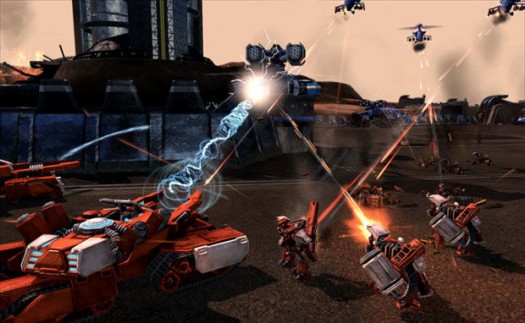 Trion Worlds has just released a fact sheet for their upcoming MMORTS End of Nations. The development is being handled by Petroglyph games and being published by Trion Worlds. Petroglyph games are know for their past RTS titles such as Universe at War: End Assault and Star Wars: Empire at War.
The game is expected to be released in the later part of 2012, with no firm release date set yet. Beta registration is currently open on the  End of Nations Website, so be sure to head on over there and check it out. Thats enough from me for now, check out the key features of the game below; 
Key Features
Experience Premier MMORTS Gaming – From the creative minds behind the original Command and ConquerTM and the people who brought you the groundbreaking new MMO RIFTTM,   End of Nations will set a new standard in  real-time strategy gaming as the world's first premium Free-to-Play MMORTS!
Behold The Power of Many – Wage War on an unprecedented scale with up to 56 player PVP matches in a variety of massive online battle arenas that will give you countless opportunities to unite and fight and ultimately impact the fragile hold of power!
Engage in a Persistent Global War – Every battle fought and every victory won affects the delicate grasp of territorial control in an ever-evolving conflict. Quickly move from one combat zone to another as a lone wolf or as a team to truly dominate as you take on the Order of Nations or your rival faction. Online campaign mode allows players to experience the depth of story the embodies the battle for global control.
Build Your Ultimate Army – Earn and unlock new units, abilities, and super-weapons, and customize your army with unique mods, upgrades, and visual designs. No two forces will look or play the same. Field one company and play offensively, choose another mid game if your tactics aren't working and scout, or play defense – how you play in the heat of battle is up to you!
Climb the Ranks of Command – Choose your Commander Class and advance through the ranks of your faction, gaining new abilities and tactics with every battle. Veterans and new recruits lock horns on even ground as skill and desire decide every battle.