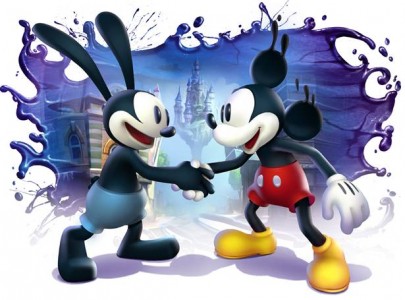 Not much has been revealed about Epic Mickey 2, besides the fact that it's a thing. But amongst the chaos of E3, Disney Interactive Studios have provided more details on the game, as well as some new screenshots.
The game is subtitled The Power of Two for a reason: it was confirmed that the game will feature two-player drop in/out co-op, with the second player controlling Oswald the Lucky Rabbit, Walt Disney's very first cartoon character, and antagonist of the original Epic Mickey.
So while Mickey can use his magical paintbrush to draw and erase characters and parts of the environment, Oswald's remote control allows him to manipulate electricity. Oh, and by spinning his ears he can apparently fly, to carry Mickey around.
Last time, Mickey was a silent protagonist and all NPC dialogue was conveyed through text. This time around, every character will be fully voiced, by the official Disney voice actors. This marks the first time Oswald has ever spoken, and it's hard to imagine what his voice will sound like. My guess is it's a gruffer version of Mickey. Just a guess.
Levels will take players across warped versions of environments from Disney cartoons both classic and obscure, with some inspired by the company's theme park attractions. This includes both new levels and extended versions of ones from the previous game. 2D side-scrolling platform levels based on specific cartoons will also return, but are hinted to be a bit more challenging and compelling than they were last time around.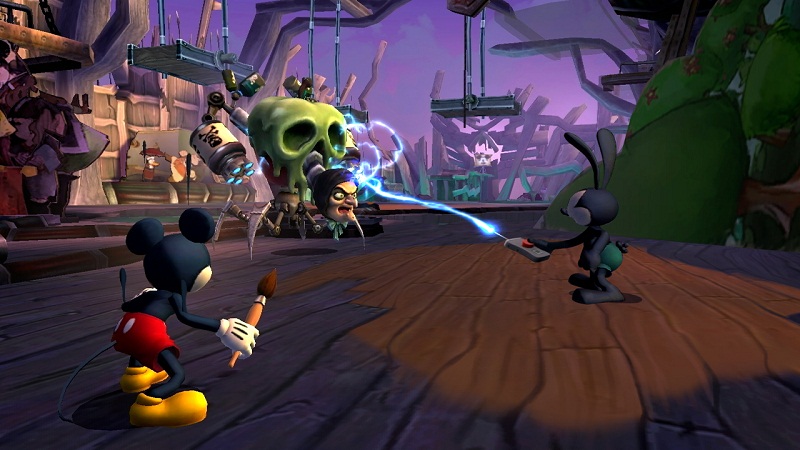 Intriguingly, Epic Mickey 2 is being touted as the first video game to include elements of musical films and theatre: at certain points, characters may spontaneously burst into song to express themselves and advance the story. It may sound off-putting, but it's actually a feature of the majority of classic animated Disney films, and it will be interesting to see exactly how this translates to gameplay. Already, we've been told the tunes and instrumentation will vary according to decisions the players make. Let's hope the songs are as catchy as some of the classic Disney songs.
Where the original was a Wii exclusive, Epic Mickey: the Power of Two will make its way to the Xbox 360 and Playstation 3, as well as returning to the Wii. A separate version for the Nintendo 3DS, titled The Power of Illusion, is also being developed. Both are due out in the nebulous time frame of Fall 2012, (i.e. September – November).
Have a look at the screenshots below for a look at some of these features in action.