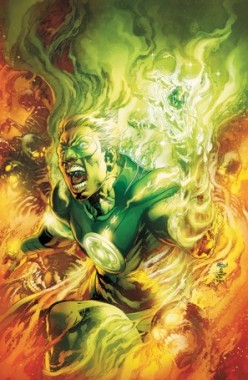 Last week DC Comics announced a DC character would not just come back to the DC universe, but also come out. DC Comics has now revealed that character is Alan Scott, the original Green Lantern. This has surprised many. Why? Because the character was created over 70 years ago and has a wife and kids.
Now being reintroduced into the series Earth 2, Alan Scott will be returning with a new sexual preference in Earth 2 #2.
"I'm very proud to be introducing Alan Scott into DC COMICS-THE NEW 52. He was my favorite Golden Age character and one I'm very familiar with so I'm really excited to be updating him for a contemporary readership. Oh, and on Earth 2 there is only one Green Lantern, so Alan's title is The Green Lantern. Alan's sexuality is just one facet of him, along with his innate goodness, valor, charisma and skill at leadership that makes him the perfect man to wield the power of the green light in the world of Earth 2."
                                                                                                                                                                  -James Robinson, Series Writer
I know right?! I'm just as surprised as you are. I also expected it to be Aquaman! Earth #2 is expected to be released on June 2nd, 2012.