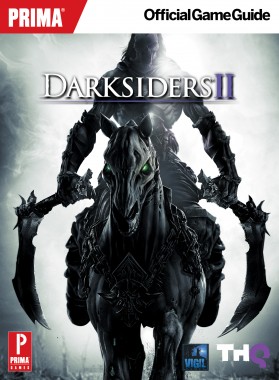 Bluemouth Interactive are releasing a strategy guide for Darksiders II at the same time as the game's release, on August 16. The strategy guide will be 256 pages long and readers will be able to explore every thing through it, with a detailed walkthrough that will go over every dungeon and sidequest in the game, item details for each item you can pick up within the game, labeled maps revealing hidden items and objectives, and solutions to all of the puzzles.
Darksiders II is the epic sequel that follows Death, another of the four horsemen, in a storyline parallel to the events of the first game. Death goes through a huge journey trying to redeem his brother and find out what the true reason behind the premature start to the Apocalypse was.
With a larger world, full weapon and armour upgrade systems, as well as more challenge and a new range of enemies to take down. And if you want a little extra help making your way through the game, then no one will hold it against you!
Darksiders II is due for release on August 16, 2012 in the Australia and August 14 in the US on Playstation 3, Xbox 360 and PC. The WiiU's date set for a tentative late 2012. Keep tuned to Capsule Computers for more news on Darksiders II as it is released. For more information about the strategy guide go HERE.