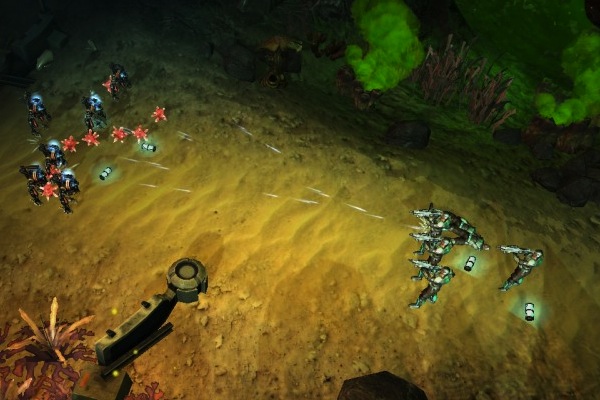 BlueGiant Interactive has announced Tryst, a futuristic RTS where "where humans find themselves at war with a mechanical alien race known as the Zali." In Tryst players will take control of one of the two factions whilst vying for supremacy, whilst trying to avoid the reactive environmental dangers. Tryst's main selling point is its A.R.M. feature otherwise known as the Augmentation Research Mechanism, this is said to consist of allowing the player "to equip units with specific load-outs to change their natural advantages and disadvantages." This would suggest that Tryst has something more to offer then the simple Rock-Paper-Scissors mechanics of some other games.
Features: 
* Unique Unit abilities and Upgrades: All of Tryst's units come with unique upgrades that allow each of them to perform their designated roles effectively and fit into different roles to stay viable in an ever changing battle.
* Story & Campaign – Play through an engaging and immersive campaign with missions that offer the player multiple tactical choices.
* 2 Unique playable races – Play as either the Humans or the Zali, each with distinct advantages and styles.
* Multiplayer: Many multiplayer maps built for team or free-for-all brawls with a maximum of 8 players in each battlefield.
* Environmental Hazards: Maps are filled with dangers that can both hold the player back or be used tactically to lure an enemy into the perfect ambush.
* Replacing Dropped Team-mates: If a teammate drops from or has to leave the battle he will be replaced by a competitive and intelligent AI immediately.
* Unigine Graphics Engine – State-of-the-art visuals powered by UNIGINE engine.
* Map Editor: Built-in map sharing and creation system for the community post-release.
* Online Features – Many features available in online play including a matchmaking lobby, clans, ratings, stat tracking, Steam achievements & leader boards, built-in replays.
No release date has been announced yet, though a teaser video was shown, check it out below the break;