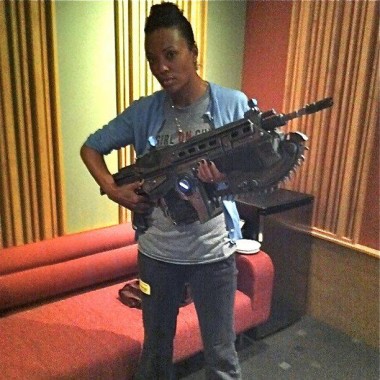 Ubisoft hosted their annual E3 conference this year, and to many, they indeed won the entire show due to the good amount of games they had to show, as well as the execution of the entire event. As you all know, actress and avid gamer Aisha Tyler hosted the event, and has been receiving some rough feedback from a few onlookers and critics. This is the feedback we have grown accustomed to, with the name calling, personal attacks, and general hate that everyone sees light up twitter and forums everyday.
Tyler doesn't take anything lying down though, and has now fired back with some words to put those voices to rest.
Tyler has posted this beautiful letter on her Facebook.
I play.

I've played since I was a little kid.
Since I begged my dad to buy me a Nintendo LCD Donkey Kong, Jr.
Since I blew through three weeks' allowance playing Defender at the laundromat.
Since you were a twinge in the left side of your daddy's underoos.

I've been a gamer since I made friends with a girl in the 5th grade just to get at her Atari.
Since I missed the bus playing Galaga after school.
Since I missed the start of Return of the Jedi playing Tempest in the theater lobby.

You think you know. You don't know.

I've been a gamer since before you could read.
Since I aced midterms after staying up all night playing Evil Tetris.
Since I became dorm champ at Leisure Suit Larry.
Since I double-wielded on Time Crisis 3 at Fuddrucker's.

I was a voice in not one, but two major video game titles.
I hosted the Reach Beta tutorial.
I was a Gears of War superfan panelist at ComicCon.
I hosted the Ubisoft presser at E3 2012.
I didn't do any of it for the money.
For most I got paid next to nothing, and for some, less than that.

I did it because I love video games.
Because I've dreamt since I was a kid of being in one of the games I love.
How many games have you done voices for?
How many cons have you repped at?
Your buddy's Unreal Tournament garage deathmatch doesn't count.

I go to E3 each year because I love video games.
Because new titles still get me high.
Because I still love getting swag.
Love wearing my gamer pride on my sleeve.
People ask me what console I play.
Motherfucker, ALL of them.

I get invited to E3 because real gamers know I'm a gamer.
I don't do it for the money.
I have plenty of money.
I don't do it for the fame.
Fuck fame.
I do it because I love video games.
I don't give out my gamertag because I don't want a mess of noob jackholes lining up
to assassinate me on XBL.
I don't give a shit what you think about my gamerscore.
I don't play to prove a point.
I don't play to be the best.
I play because I love it.

I play.

I've been playing my whole life.
I'm not ashamed of it.
I don't apologize for it.
It's who I am.
To the core.

I'm a gamer.

So to all the haters out there who claim I don't play;
To the GAF dicks,
Gamespot trolls,
To every illiterate racist douchebag on Youtube:
Flame away. Go nuts.
Post every jackass comment your heart desires.
I'll still be playing when your mom's kicked you out of her basement
and you have to sell your old-ass console
and get a real job.

For now, I say to you respectfully,
and I mean this from the bottom of my heart,
GFYS.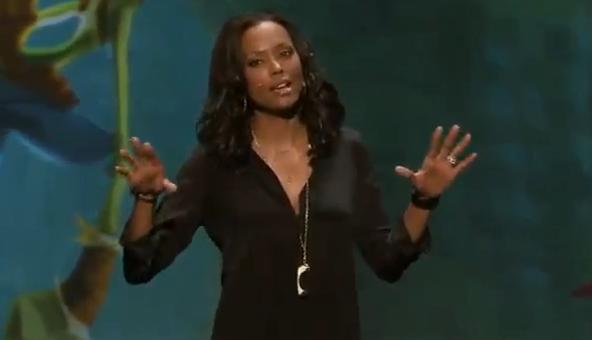 We see a lot of celebrities at E3 each year. Some love them, some hate them. Aisha Tyler performed well at E3 though, and if anyone is attacking her, they should re-watch Ubi's big press event again. After each title was announced, she showed excitement and a genuine interest. Her eyes were lit up with joy, and you could tell that she was in it for something other than a few extra dollars. I honestly can't comprehend how someone could attack someone as passionate as Tyler, as she played a perfect ringmaster with all of the games in tow, making the event Ubisoft's best ever, in my opinion.
You see, people like Usher or Jamie Kennedy come in and make a mockery of our industry while only attempting to promote themselves all of the time. Shouldn't we offer a little bit of praise to someone who actually cares? I really didn't know who Aisha Tyler was before E3, and now after seeing this elegant rebuttal, she has earned my respect even more-so now than after her solid hosting job. As gamers, we should definitely protect what we love, but we also have to invite those at the door in with open arms if we ever want to be respected for our passion.
Gaming is not a frat house or special club. It is and has always been a hobby, a sport, a type of art, and a form of entertainment that anyone can enjoy. Aisha doesn't need to prove herself because you think she "misrepresented" something you like. She is a gamer, and there is nothing anybody can do about it. My hat goes off to Ms. Tyler today. We need more voices like yours in this industry and I can't wait to see you represent what we all love more in the future.