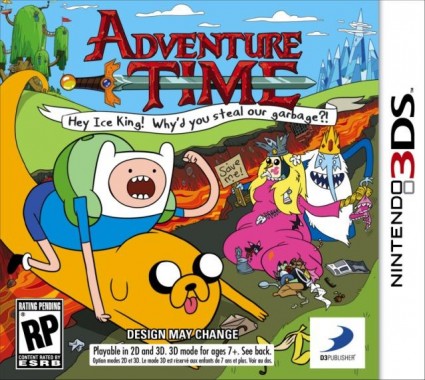 While Adventure Time fans already had a reason to celebrate with the recent announcement of a DS game from WayForward, there is even more reason to get hyped as the freshly titled "Adventure Time: Hey Ice King! Why'd you steal our garbage?!" is now also set to launch on the 3DS as well. Today, Both D3Publisher and WayForward came forth to enlightne the world on this magical creation.
Check out the press release for yourselves:
In the first licensed Adventure Time video game, Finn and Jake wake up one morning to find their trash stolen by the Ice King. Jake couldn't care less about half-eaten bananas, crumpled up burrito wrappers, and old chicken diapers – but when they find out the Ice King is using their stolen goods to construct a Garbage Princess, the heroes embark on a fantastical adventure to teach him a lesson! Journey through the Land of Ooo in an offbeat adventure and discover perilous dungeons and unimaginable treasures, while playing as Finn and Jake in a unique action-adventure experience.
Working alongside the game's developer WayForward is the series' creator Pendleton Ward, who is designing a new storyline and quests for the game.
"Adventure Time fans have been asking for a video game to complement the series for some time, and we are working directly with Pendelton Ward, who has an amazing vision for the game," said Peter Andrew, vice president of product development, D3P. "Adventure Time: Hey Ice King! Why'd you steal our garbage?! will be a fan's golden ticket into the elusive Adventure Time universe and will capture the random fun and adventure we all love about the series."
Adventure Time is the pop culture sensation, Emmy-nominated, top-rated show among kids, and its popularity continues to soar both on air and at retail. The series follows Finn, an adventure-seeking kid and Jake, his shape-shifting canine best friend, on their adventures in the Land of Ooo. The awesome duo save princesses, battle the notorious princess-kidnapper, the Ice King, party in Lumpy Space, fight in dungeons, and even befriend Marceline the Vampire Queen. Since the start of its fourth season, Adventure Time is the #1 program on Mondays on all television with kids 6-11.
"The rich and diverse characters in the Adventure Time world are absolutely perfect for a video game franchise and working with D3Publisher, WayForward and Pendelton Ward, we have a great team in place to bring it to life," said Pete Yoder, vice president of consumer products, Cartoon Network Enterprises. "This game will provide the Land of Ooo experience that young fans will love."
I am a bit curious of why both Nintendo portables were chosen for this title, but hey, the more Adventure Time, the better. Thor, Aliens: Infestation, and Centipede were all solid titles from the developer last year, so I would imagine this licensed romp will be just as good when it hits shelves later this fall.