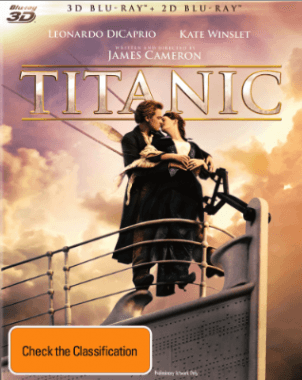 Two billion-dollar mega blockbuster and winner of 11 Academy Awards, Titanic will be making its debut on Blu-ray 2D and 3D on September 12, 2012. James Cameron's masterpiece will be available in high definition for the first time ever. Marking the 101st anniversary of RMS Titanic, you can now pre-order the Blu-ray in 2D or 3D with participating retailers.
James Cameron had this to say about the Blu-ray release:
"Blu-ray extends Titanic's immersive 3D theatrical experience into audiences' homes, where their living room becomes the backdrop for big spectacular environments and intense action, as well as profoundly intimate human moments, allowing generations of fans – new and old – to truly become part of the movie like never before."
No only is the movie in ultimate high-definition, but it also has more than 2.5 hours of all-new bonus footage including an in-depth exploration of the film with James Cameron, as well as National Geographic documentary footage with James Cameron and Titanic experts solving remaining mysteries of why the 'unsinkable' ship sank. There are also 29 deleted scenes, an alternate ending, over 60 behind-the-scenes featurettes, a look at the visual effects, over 2,000 photos, three commentaries and even more. So if you're one of those people who loves special features, this is definitely worth picking up.
I mean, who doesn't love Titanic? The story of two star-crossed lovers who meet on the legendary cruise ship that was dubbed the 'ship of dreams'. So why not pick up a super high-definition version with a tonne of extra features and round out that Blu-ray collection?
Titanic 3D and 2D on Blu-ray is available on September 12, 2012. Can't wait? Head on over to your local retailer and pre-order your copy today!