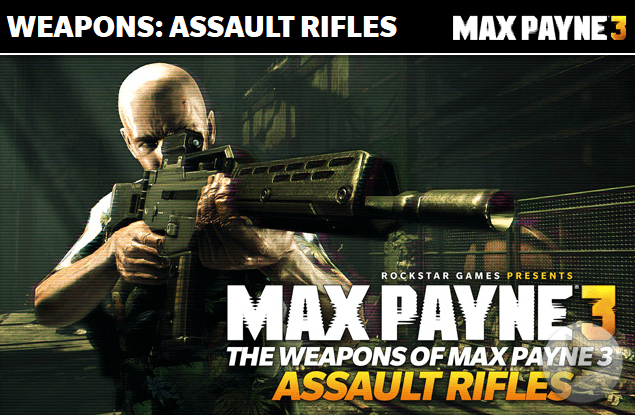 Rockstar Games' Max Payne 3, the Assault Rifle class of weaponry serves as the meat and potatoes to Max's arsenal and staple diet; the G6 Commando, MD-97L, FAL, and my personal favourite the AK-47 all deliver powerful long range accuracy while still being agile enough to handle enemies at shorter distances with their rapid rate of fire, and high-capacity magazines.
Armed by various factions of enemies in Max Payne 3 from vicious favela gangs to paramilitary commandos, these intimidating two-handed killing machines can literally make mincemeat out of unlucky foes.  They're even more fun to use once you switch to bullet time, making the mincemeat even more tender!
To help you familiarize yourself with the battle-proven Assault Rifles check out the video below that show off the individually modeled components of the daunting G6 Commando.  Imagine the fun you can have once Max switches to bullet time and pulls the trigger on this awesome piece of weaponry!
Who's already picked up a copy of Max Payne 3? Let us know what you think of it in the comments section below.