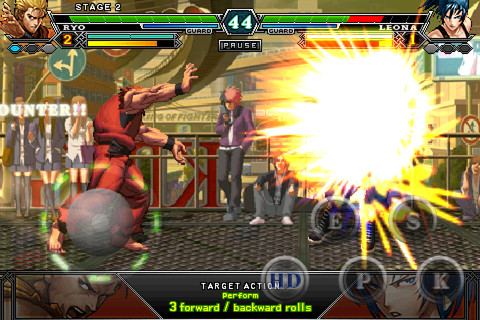 Welcome back for this week's iOS Game Suggestions. If you missed or are new to the suggestions, click on the link below and check what cool games you should be picking up for your iOS along with the introduction and disclaimer on how the suggestions work. (suggestions 1 has the disclaimer)
MasterAbbott's iOS Game Suggestions
What I've also introduced is video game play footage (if it's possible) on some of the iOS games I've suggested, you can check this out at the bottom of the article. Currently video game play footage for this week's suggestions are not available, check back in a few days there will be some more added. For now, if you jump into previous suggestions there are a few videos to check out.
A fairly decent week on iTunes, it started off extremely slow but ended quite reasonably, not the best week for iOS releases, this week I've suggested a total of 23 great quality titles. Break down below :
11 – FREE Games
7 – $0.99c Games
5 – Over $0.99c Games
As always for this week's suggestions are all new titles that you should take a look at and spending your hard earned iTunes cash / time on.
For The Cheapskates – FREE GAMES
 

Enchanted Realm HD – Price : FREE – Publisher – Game Insight. (Enchanted Realm isn't just a game, but a captivating fantasy adventure. The setting is a far-away and wondrous realm, where magic flows as freely as the winds of trade through the market's merchant and apothecary stalls. Joyful citizens rejoice as their wise and just ruler ascends to the throne — and that, my liege, is you! ) on iPad. GET IT NOW FOR FREE

Scarface – Price : FREE – Publisher – Fuse Powered Inc. (Download the @FreeAppADay.com Store App and wish for more top rated paid apps like "Scarface" to become FREE for a day! "In this country, you gotta make the money first. Then when you get the money, you get the power. Then when you get the power, then you get the women." –Tony Montana. In the spring of 1980, the Mariel boatlift brought thousands of Cuban refugees to the sun-washed avenues of Miami in search of the American Dream. Tony Montana, cultural icon, was aboard that ship.) runs on iPad & iPhone. GET IT NOW FOR FREE

 

Fling A Thing! – Price : FREE – Publisher – 6Waves Lolapps. (Fling a Thing is a simply fun game where the player stretches and flings cute little characters into the air to collect bubbles. When the player has cleared away all the bubbles they move on to the next level, climb higher, and interact with some really bizarre objects. Players beware: there's a limited amount of shots for each level, so the more accurate you are the higher a score you will achieve! The more stars the player gets the more upgrades they can unlock to help them achieve a higher score.) on iPhone & iPad. GET IT NOW FOR FREE

 

Emma's Dream – Price : FREE – Publisher – Black White Games. (Story: Emma is trapped in a dream. Help her and the prisoners escape! How to play -Manipulate objects with your fingers – Rescue prisoners – Clear a path for the gems to reach Emma. Features – over 90 levels, promising hours of gameplaym- VERY cool abilities ( frost, explosion, wormhole, slash and giant hand ) – GameCenter enabledn- Kiip enabled. Win real rewards for in-game achievements) on iPhone & iPad. GET IT NOW FOR FREE

 
Bravian Lands Adventure – Price : FREE – Publisher –

VisualMedia.

(Help the brave Daryll to save a magical kingdom! His homeland invaded with the evil creatures and only you can stop them! The Bravian kingdom was small and quiet. One day the wizard Starion decided to make a big protective spell. Because of his mistakes the spell turned against his creator and even the whole kingdom! Ancient dark power risen from the depth of the abandoned caves and vulcans. The terrible creations invaded the Bravian kingdom.) on iPhone & iPad.

GET IT NOW FOR FREE

 
Jack Pott – The Great Escape – Price : FREE – Publisher –

Tapps Tecnologia

.

(Get your mad driving skills on, fasten your seatbelts and warm up your engines, because you're about to hit the JACKPOT! Meet Jack Pott, an ordinary person with a gambling issue, no money and a great idea, to run the streets on crazy machines, breaking away from the police and robbing stores in order to to fulfill his lifelong dream of hitting the jackpot.
To run from the police, dodge the civilians on the streets and make the police CRASH and EXPLODE. Also make use of Jack Pott's powerful arsenal of tricks to make the escape even more thrilling.) on iPhone & iPad.

GET IT NOW FOR FREE

 

Rocket Fox – Price : FREE – Publisher – NAMCO. (This amazingly cute action puzzle game is the perfect blend of pick-up-and-play gaming and refreshing, unique action! Great for all ages! Enter the world of Inari Shrine with Guy and his faithful fox friends as they take to the skies with their flowerocket training. Help Guy light up the sky with jaw-dropping explosions and bursts of color as Guy rides fireworks from flowerocket to flowerocket.) runs on iPhone & iPad. GET IT NOW FOR FREE

 
RC Mini Racing – Price : FREE – Publisher –

Graffit Games

 (RC Mini Racing is a game to feel adrenaline running together with remote control cars from scale 1:28. Using only one finger you have full control of your car to make exciting turns and amazing overtakings!
Race in more than 30 tracks and you have access car pieces like eletric engines, chassis, suspentions, tires, wheels and many car shells, with over 1200 combinations to win! You can also create tons of unique tracks using the Track Editor with all the main game track pieces available.

) runs on iPhone & iPad.

GET IT NOW FOR FREE

 
Furries Free – Price : FREE – Publisher –

Smack Down Productions.

(Help Save the Furries across 60 levels in this puzzle-adventure with 30 levels for FREE ! Furries are cute green creatures that like to visit strange planets and then stroll about oblivious to the dangers around them. Where you are needed is to tap and swipe pinballs, ropes, logs, crates, carts, switches, fans and all sorts of other items to help create a safe path to the exit. Make sure you keep the Furries safe from strange galactic creatures, spikey pits, huge explosions, giant drops and becoming the main dinner of the evil Furax.

) runs on iPad & iPhone.

GET IT NOW FOR FREE

 
Japan Jigsaw Tour – Price : FREE – Publisher –

Undercoders.

(Get on the train and let our lovely hostess lead you on a series of thematic puzzle-solving sightseeing tours across the land of the rising sun!
Chose your favorite tour from a wide selection including Shrines, Castles and Gastronomy, and solve a series of puzzles with different shapes and increasing difficulty.
Don't forget to get all the memorial stamps to complete the collection!

) runs on iPhone & iPad.

GET IT NOW FOR FREE

 
Glass Tower 2 HD – Price : FREE – Publisher –

Gadgetcrafts.

(Glass Tower 2 HD is a game with physical collisions and gravity simulation. Gameplay seems to be easy at first. The tower is constructed of blocks which are different in size, shape and color.
Your aim is to break all blue blocks and to save as many red blocks as possible. Blue blocks add a score. Its amount depends on the size of the block. Red blocks subtract your score the same way. Also every broken red block subtract one "life". You have 20 lives at the beginning. Black blocks are indestructible and unmovable.

) runs on iPad.

GET IT NOW FOR FREE
For The Bargain Hunters – 99c Games
 
Airport Scanner – Price : $0.99 – Publisher –

Kedlin Company.

(Everyday at the airport is busy and hidden among the impatient travelers are a bunch of bad guys trying to bring all kinds of bad stuff onto flights. It's your job to scan the carry-on luggage, find the illegal items and get flights out on time. To make your job easier, you have an awesome X-RAY scanner that you can upgrade with all kinds of power ups and a trio of burly TSA agents that will lay down the pain on any troublemakers. ) runs on iPad & iPhone.

BUY NOW

 
Robbery Bob – Price : $0.99 – Publisher –

Chillingo.

(Introducing the Man of Steal… Play as Bob, the hapless burglar intent on changing his ways. Unfortunately for Bob, however, he's going to be forced into a few final jobs before he's allowed out of the criminal life. SUPER SNEAKY:Sneak past security guards, residents and sleeping bulldogs as you recover the loot in each stage. Use your ninja-like skills to hide in some tight squeezes and avoid detection. ) runs on iPhone & iPad.

BUY NOW

Alien20 Pilot – Price : $0.99 – Publisher –

6waves Lolapps.

(Alien20 is a newly recruited spaceship-pilot, and his mission is to pass through the Asteroid belt to find the lost clansman. You need to learn how to use an advanced non-contact operation mode to help him to control the spaceship. In the game, you will need to evade all kinds of meteorites during the flight, while using various game items to protect yourself and earn more points. Do remember your ultimate goal: save the life of the clansman! ) runs on iPhone & iPad.

BUY NOW

 
Red Baron's Revenge – Price : $0.99 – Publisher –

EnsenaSoft

.

(t is WWI and you are the airport commander and must help the allied troops safety land as they arrive home from battle. Be careful though, every now and then the Red Baron will back for some revenge! Battle your way through the map with 10 different air fields to command in this fun new twist on the line drawing genre.) runs on iPad & iPhone.

BUY NOW

 
Deadmans Run – Price : $0.99 – Publisher –

Nightfall Interactive.

(9 Levels to Race with different environments, 6 Cars to purchase and race. Each car has 3 upgradable parts (Engine, Weapons, and Armor) with 5 tiers of upgrades each. 20 enemy racers, each with their own personality and background. Time Trial mode for each car and all tracks – Use the cars from your single player campaign to complete each trial in the best time possible. Hours of re-playability! ) runs on iPad & iPhone.

BUY NOW

 
Revenge Of Roger Rouge – Price : $0.99 – Publisher –

Everplay.

(Navigate a tale as unpredictable as the seas in this thrilling arcade game brought to life with naval battles that will blow you away! Vibrant visuals and oldschool gameplay collide to provide a shoot em' and loot em' adventure you won't want to miss. Pursue a legendary adversary across Caribbean waves, Asian thunderstorms and the deceptive calm of the Sargasso Sea. Can you send hordes of skeleton boats, turtle ships and great warships to Davey Jones while chasing visions of riches and revenge?) runs on iPhone & iPad.

BUY NOW

 
Tower Of Fortune – Price : $0.99 – Publisher –

Game Stew

 (Tower of Fortune is a retro-style slot machine/RPG. You play as a retired hero and lived with daughter peacefully. Until one day, an unknown power from the mystic tower took her away. This force the hero to draw the sword again and fight for his daughter.) runs on iPhone & iPad.

BUY NOW
For The Millionaires – All games over $0.99
 

MASTERABBOTT'S OVER 99c PICK OF THE WEEK

The King Of Fighters i 2012 – Price : $7.49 – Publisher – SNK Playmore. (32 playable characters!! Fight against the strongest players from all over via Wi-Fi Network!! 6 different game modes available in SINGLE MODE to enjoy the game for hours and hours even alone! Simple Commands allow to easily perform any type of combo!
The 2D versus fighting game "KOF-i" returns on iPhone / iPod touch with tons of new content like never before!!) runs on iPad & iPhone. BUY NOW

 
Detective S-Blackroom – Price : $1.99 – Publisher –

GIG Studio

. (Detective S is a beauty named Sarah. Sarah owning both the beauty and wisdom is the savior of the police, and also the modern Sherlock Holmes. One day, a bizarre murder happened in a uncanny backroom. The police could not find any clue, so they invited Sarah to help solve the bizarre murder case which happened in a backroom. Let us take action, search for clues and carefully think about it so as to crack the bizarre case of murder in a uncanny backroom) runs iPad & iPhone.

BUY NOW

 

Little Riding Hood (Woogi World Story Shaper Series) – Price : $1.99  – Publisher – WoogieWorld. (Little Green Riding Hood meets a robot on the way to her grandmother's house in the swamp? Little Yellow Riding Hood calls to the ninja for help? You choose! Over 4,000 story possibilities, all fully voiced!  The first in Woogi World's Story Shaper series, Little Riding Hood lets YOU reinvent the classic fairy tale or take your chances with the random pre-made story feature. Readers of all ages will come back again and again to see how many different stories they can experience.) runs on iPhone & iPad. BUY NOW

 
Gailardia 3 – Price : $4.49 – Publisher –

MocoGame

. (Our story takes place a century after Gailardia 2. This latest installment wraps up the trilogy. Again a party of four heroes set out on a journey, undertaking various jobs as they do so. Special items will allow you to give all your characters Advanced Jobs and change between jobs. Gailardia 3 also allows the player to rearrange the order of party members. The new Full Heal magic conveniently lets you restore full HP to your entire party though not during battle

) runs on iPhone and iPad.

BUY NOW

 
LEGO Harry Potter: Years 5-7 – Price : $5.49 – Publisher –

Warner Bros

. (THE BATTLE IS BUILDING! The sequel to the hit video game is now available for the iPhone, iPod Touch and iPad! Continue the saga of the Boy Who Lived in this spell-binding adventure for wizards and Muggles alike. Experience Harry's last years at Hogwarts™ and battle Lord Voldemort™ in the ultimate fight between good and evil. The creative LEGO® prowess unites with the expansive world of Harry Potter™ to deliver an exciting and rewarding gameplay experience that features lessons, spell-casting, dueling and much more for players of all ages!

) runs on iPhone & iPad.

BUY NOW
There you have it folks, these games should keep you busy for quite some time. I'll be back next week for another dose of iOS goodness, in the meantime if anyone would also like to suggest their own suggestions, please feel free to share them in the comments section below.
Remember kids,
Play Hard Or Don't Play At All!
Game Play Videos coming soon.