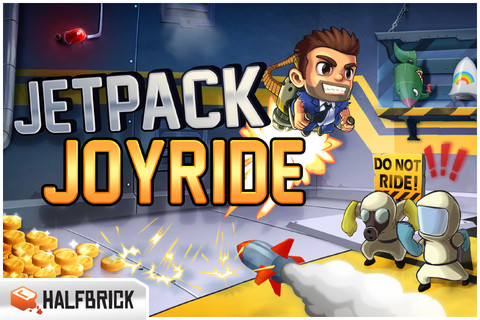 That right Jetheads, the iOS phenomenon Jetpack Joyride from Halfbrick Entertainment has rocketed its way onto Facebook. The game that topped iOS game charts has been a huge success for Halfbrick who you may recall for their smash-hit Fruit Ninja franchise and as such it was only natural that Jetpack Joyride would eventually ride into Facebook territory.
The game is now available to play on Facebook, although Halfbrick are still classifying the game as being in it's beta phase. Halfbrick's chief marketing officer Phil Larsen had the following to say on Jetpack Joyride's move to Facebook; "With Jetpack Joyride's success on the iOS platform, it only made sense for us to bring Barry and his mischievousness to the entire Facebook community, the active and casual nature of Facebook gaming allows us to do even more with the beloved franchise and focus on the game's addictive competitive elements and endless replayability."
You can go for a Jetpack Joyride right now at Facebook here. What do you think of this iOS sensation blasting onto Facebook? Let us know in the comments section below.