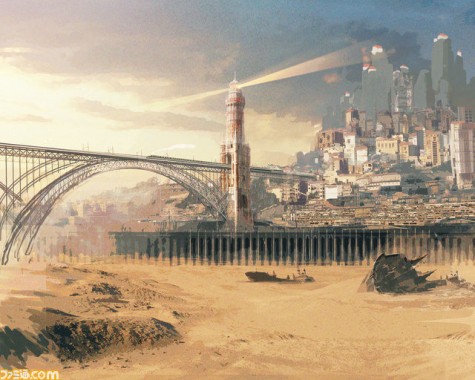 As reported by Andriasang earlier today, Japanese gaming publication, Famitsu, has shared the very first concept artwork for the recently announced Tales Of game, which is meant to be a departure from the series' norm. The first concept art gives a little glimpse of how much of a departure this game is going to be.
The artwork shows off some of the locations and set-pieces that may be included in the final game. What is clear here that they're going for a  futuristic sci-fi setting with a post-modern twist, unlike the more medieval fantasy (occasionally steam-punk) themed setting of traditional Tales Of games. The artwork here shows off a bustling city with buildings, bridges, towers, and even public train transport.
This all looks very interesting, and it seems this upcoming Tales Of title will do for the series what Final Fantasy VII did for the Final Fantasy series. Stay tuned for more details as they emerge.