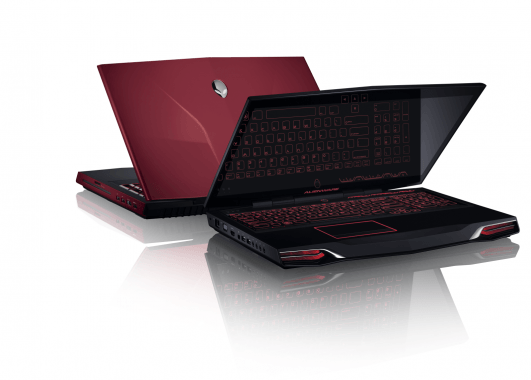 With their M14x, M17x and M18x model gaming laptop computers. In fact, they are pegging their M14x and M18x machines as being the most powerful 14″ and 18″ laptops in the entire Universe.
These devices come in both nVidia and ATi flavours and feature THX 7.1ch sound, which should be the standard in gaming soon, and Klipsch brand speakers – which I assume are quality speakers. Each device is also looking like a powerhouse for gaming, the minimum RAM is at 16GB and a minimum GPU of a 650M Mobile.
A perfect balance of performance and mobility, the Alienware M14x allows gamers on-the-go to experience uncompromising gaming performance. The M14x  features optional dual drive configurations, up to 16GB of memory[ii] for extreme multitasking, a Blu-ray combo optical drive, and an NVIDIA GeForce GT 650M graphics engine with GDDR5 graphics memoryii – the most advanced GPU in a 14-inch form factor and the first time Alienware is offering GDDR5 graphics on a laptop of this size.

The Alienware M17x immerses the customer in the game with every dimension, pixel and sound, for a bigger, richer gaming experience. The M17x delivers the latest  NVIDIA and AMD graphics card options, up to 32GB of memoryii, optional 17.3-inch 120Hz WideFHD WLED 3D display, and THX 3D surround sound. It is one of the first laptops to offer the AMD Radeon HD 7970M graphics card and the latest GDDR5 NVIDIA GeForce GT 660M and 675M graphics solutionsii.

Alienware's flagship gaming laptop, the Alienware M18x, is equipped with technology capable of matching high-performance gaming desktops. The M18x delivers up to 200w of mobile graphics power when configured with the optional Dual NVIDIA GeForce GTX 675M graphics enabling an NVIDIA SLI experience and up to 4GB of GDDR5 graphics memoryii. An 18.4-inch Full HD 1080p WLED backlit LCD, up to 750GB 7200RPM SATA hard drives[iii], support for a triple solid state drive option – 768GB SSD (3 x 256GB SSD), and a stylish, anodised aluminum shell all combine to make the M18x a gaming and entertainment powerhouse like no other.
Taking a look at these specifications, it's hard to imagine holding such a powerful laptop. To make things even better, each machine will be running Intel CPUs and utilising the Intel TurboBoost technologies, which will surely make these the fastest operating laptops in the Universe.
On the laptops, Alienware had this to say –
"Our customers want the most immersive gaming experience possible, and we've taken the all-powerful M14x, M17x, and M18x laptops and made them even better, delivering the latest technologies for almost every need," said Frank Azor, General Manager, Alienware. "We've always offered the latest technology for the best gaming experience possible, and our enhanced lineup will provide the sensory experience that we know you crave."
These new devices are available now at JBHi-Fi, with the cheapest model being $1,799 and the most expensive being $3,299 (Prices are Australian). Be sure to check out the Alienware Store for more info.