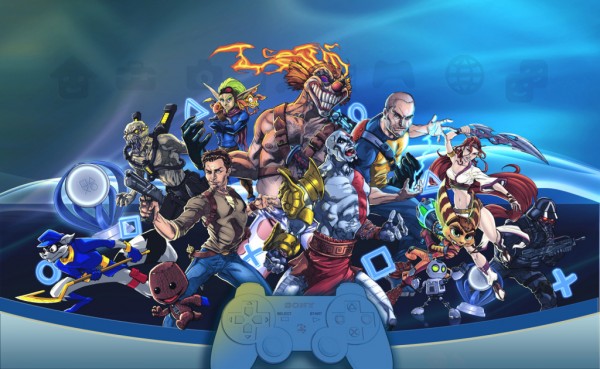 The not so secret Sony fighting game has been officially been announced on GTTV with a release in holiday 2012. Playstation All Stars Battle Royale, in development at Superbot Entertainment, will pit an array of Sony owned characters (a possibly a few third party characters who have appeared on the Playstation consoles) in four player, free for all battles in themed stages based on popular Playstation games. Six characters have been revealed in the announcement: Kratos (God of War), Sweet Tooth (Twisted Metal), PaRappa the Rapper (PaRappa the Rapper ), Fat Princess (Fat Princess), Colonel Radec (Killzone), and Sly Cooper (Sly Cooper series). Of course, more characters will be announced, most likely at E3 2012. The game will be for the Playstation 3.
Playstation All Stars Battle Royale will feature both solo and multiplayer modes, as all fighting games will. Two single player modes were announced: Combat Trials and Arcade Mode. In Combat Trials, players not only learn the basics of the game but perfect their skills through hundreds of unique challenges. Additionally players can play through a fixed level progression with prizes in Arcade mode. Three online multiplayer modes have been announced: Tournament Mode, Special Event Battle and Custom Matches.
A few preview articles have popped up and have revealed a few gameplay details. Yes, the presentation does look like Nintendo's Super Smash Brothers, but there are differences. First up, the Playstation characters have three attack buttons in combination with directional input, one more than Super Smash Brothers. Each character also has three levels of special attacks, built up by collection Energy Points (EP). Health is also non-existent, but you don't knock characters off the stage. Items are existent, but don't pop up as often. Stages are quite different as well, as the background does get involve in the fight. One stage is based on BUZZ!. At times, the titular character will pose questions and players can answer them. Get it right and reap in the benefits. Besides, as Charles Caleb Colton said, "Imitation is the sincerest form of flattery."
With the game now out in the wild, what does everyone think? With such a polarising audience emerging, will you give it a go if you had the chance? Give us your thoughts and check out a couple of screenshots & and gameplay  below.