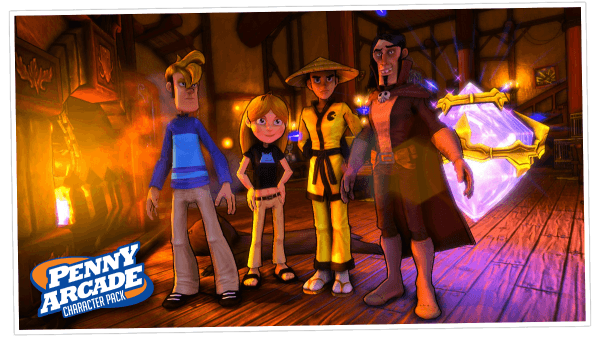 Dungeon Defenders has certainly evolved into an expanding experience as Penny Arcade has partnered up with Trendy Entertainment to bring some lovable new skins to the playing field. Here is the list of the new skins:
Cardboard Tube Samurai (Gabe's alter-ego – skin for the Monk Class)
Tycho (skin for the Squire Class)
Annarchy (skin for the Huntress Class)
Jim Darkmagic (skin for the Apprentice Class)
The skins can be acquired by attending the upcoming PAX East event at the Reverb Publishing booth. As there will be a limited supply of free codes, the first in attendance will have the chance to win. For those Penny Arcade fans that cannot make the event, the skins will be available for download on Steam on April 6th.
For more information concerning PAX East, look here.