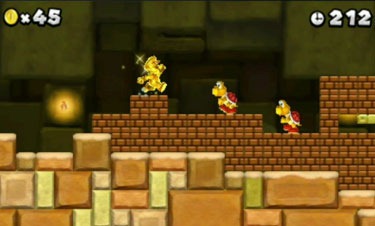 In what is a new twist for Nintendo, they will soon be offering full Nintendo 3DS titles for download later this year. To kick off the service, they are using their most iconic franchise, Super Mario, to lead the way. When New Super Mario Bros. 2 is released to retailers worldwide in August for the Nintendo 3DS, it will also be made available as a downloadable title.
The game will be made available for download over the eShop and Satoru Iwata revealed that gamers can expect to see nearly all of Nintendo's first party titles available for download once the service begins. It is worth noting that the game will only be playable on the specific 3DS it was downloaded to.
The digital versions of the games can also be bought at retail stores where codes will be given upon purchase and must be entered into the Nintendo 3DS' eShop to download the game. Also revealed was the fact that the prices for these games will vary from store to store, meaning that the price of New Super Mario Bros. 2 may differ if downloaded from the eShop digitally or from your local GameStop.