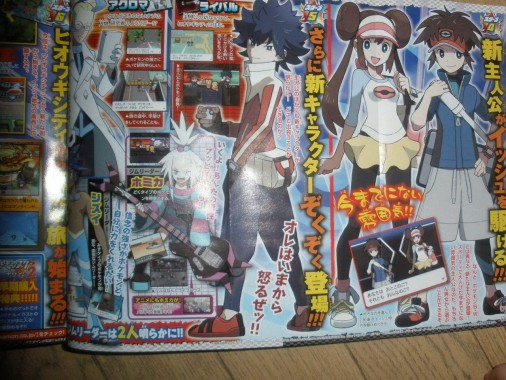 News is starting to come out for Pokemon Black and White 2, which are both set to hit the DS in Japan in just two months. CoroCoro revealed new details in a recent issue for both games, detailing the new set of characters we will see, as well as just where players will need to go for this brand new journey.
As you can see in the scan above (courtesy of Serebii.net), both new trainers are sporting some trendy attire, with the male sporting a visor and shorts (they are easy and comfortable to wear of after all) and the female trainer going for a look that seems to be the spawn of Princess Leia and Sailor Moon. Black and White 2 will take place two years after the events of the first game, and will start in Hiougi City. There are also new gym leaders, and even a new Professor and rival, with the rival looking as smug as ever.
As far as Unova goes, a good portion of the land is now frozen, and once hidden areas have become fully visible with brand new tunnels and paths open throughout that make this once small region much larger as a whole.
We still don't have an official release date for the west however, but stay tuned as Nintendo will surely bring up an update of their own within the coming months.